If Music Be the Mood of Love Parks, Play On!
Published: Tuesday, August 25, 2020
Wandsworth is one of the greenest of London boroughs boasting 32 public parks. In recognition of our many council-owned parks and open spaces we are spending the summer celebrating our wonderful green spaces, as part of our Love Parks campaign.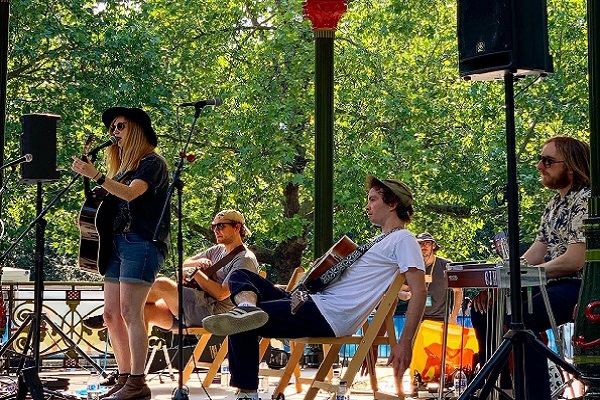 This week we focus on Battersea Park. Covering 200-acres the Grade-II listed park has many highlights including the Peace Pagoda, Pump House Gallery, boating lake, endless beautiful gardens and the bandstand.
Over the summer on the Victorian bandstand, Wandsworth Council is playing host to a series of performances allowing visitors to enjoy socially-distanced events for free. Every Sunday in August from 1pm to 5.30pm residents can enjoy musicians, singers, jugglers and poets under the title Wandsworth Summer Sessions. Then, on various dates from Tuesday, 1 September, to Tuesday, 15 September, the Bandstand Chamber Festival will take place featuring a high-quality series of outdoor chamber music concerts.
"The gig was lovely," said singer-songwriter Rosie Jones (pictured below) who recently performed as part of the summer sessions. "On the one hand it was just nice to be up there because none of us have performed outside of our homes since lockdown, while on the other the event itself was just so great. It was very well-organised and everyone felt safe from a socially-distanced point of view. People sat in chairs within two-metre-circles and there was plenty of hand sanitiser around. And the audience was lovely – everyone had a real appreciation for it, perhaps because it's something we haven't had for so long."
As an east Londoner this was the first time Rosie had been to Battersea Park and commented, "It was much grander than I expected."
"One silver lining about lockdown is that it's given people an appreciation of their local area," she added. "In London you are so busy commuting and buzzing around you don't necessarily get to know your locality and your nearby parks. I certainly know every pocket of my neighbourhood now!"
Not to be outdone, Shillington Gardens, just down the road, will play host to a number of free, live theatre performances on Tuesday 25 August, and Wednesday, 26 August. The first performance will focus on famous scenes from Shakespeare. The second will be a play from the established Estimated Waiting Time group, set on a housing estate's playground.
"Our parks and open spaces have been a lifeline to residents during the lockdown," said Cllr Steffi Sutters, the council's cabinet member for community services and open spaces. "It's terrific that they are now bursting back into life, and we're especially proud be hosting an entertaining selection of free events, with everything from classical music to theatre.  But I must remind people to maintain a social distance and please take their litter home with them so as not to spoil the greenery for others."
Join the conversation and share your pictures of your favourite park at #LoveParksWandsworth