#KeepOurChildrenSafe Campaign Launches in Wandsworth
Published: Friday, August 21, 2020
Wandsworth Council has launched a campaign aimed at raising awareness on the importance of recognising and reporting children suffering from harm.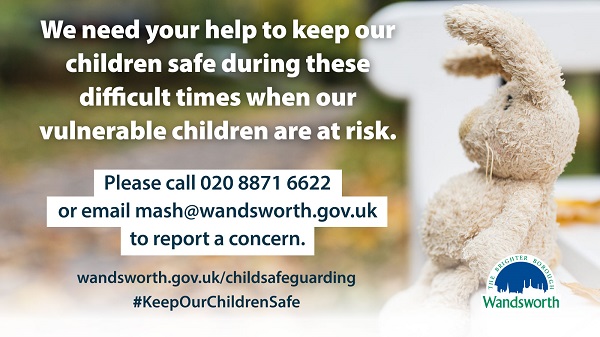 Partnering with the Met Police, South West London NHS and the Children's Safeguarding Partnership, the campaign draws on the national messaging of #KeepOurChildrenSafe, which covers all forms of child harm from physical abuse to not making doctor's appointments when necessary.
Since schools closed in March, child protection services have seen a significant drop in child abuse reporting. With the increased pressure the coronavirus has put on parents and caregivers, children are at significant risk of suffering various forms of harm in the home. 
Throughout school holidays, children have less access to people that might otherwise report abuse such as teachers or a sports coach. This campaign seeks to raise awareness about the increased risk of child-harm as a result of COVID-19 and encourage people to report their concerns about children. It will also aim to teach the public on what signs to look for and make the process of understanding how to report concerns easier.
Cllr Will Sweet, Cabinet Member for Education and Children's Services said: "Local residents can sometimes be the first to notice that something isn't right. It's so important that we all do our bit to protect children in the community. We as a Council are determined to keep children's health and well-being at the top of our agenda, working with our social workers, teachers, youth workers and all those that work with young people to keep them safe.
"Especially during the school holidays, we rely on the wider community to help recognise and report child-harm. The Council is grateful to local residents for all they are doing at the moment to help.
"It's vital we all play our part during these difficult times, even if you don't think it is normally your place or role to report your concerns. We hope this campaign will help put to rest misconceptions around the reporting of child harm, as well as encouraging people to educate themselves on the signs to look for."
For more information on child safeguarding visit Wandsworth.gov.uk/childsafeguarding or to report a concern call 020 8871 6622 or email mash@wandsworth.gov.uk.