Love Parks…and Commons!
Published: Tuesday, August 18, 2020
Our Love Parks campaign celebrates Wandsworth's fabulous green spaces. We can boast the highest number of council-owned parks and open spaces in inner London which, together with private gardens, cover 40 per cent of the borough.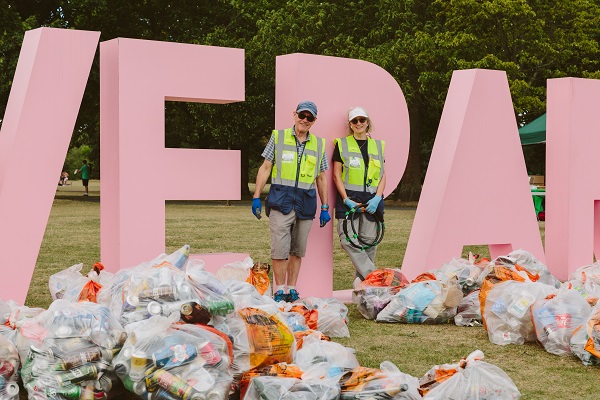 To help maintain and improve our open spaces, as well as educate and delight people about this greenest of London's boroughs, we rely on an army of volunteers who selflessly give up hours of their time every month. These include the many active Friends groups and one of the biggest, with approaching 500 members, is the Friends of Wandsworth Common.
Formed only a couple of years ago, it is co-chaired by Julia Bott and Richard Fox who have noticed a rise in membership over the past few months thanks in part to people's new-found appreciation of parks and open spaces during lockdown.
"I believe that, first lockdown and then the appalling litter which people are leaving behind, has made residents look again at their local green spaces," said Julia. "It has raised a consciousness that places like the Common are a real asset and so, when something goes wrong like mass littering, that's when people go, 'Oh no!' and contact us."
With the littering issue the Friends group have worked with their long-established sister group, the Management Advisory Committee, in close collaboration with Wandsworth Council to tackle this, alongside the council's contractor Enable Leisure and Culture. On a more public scale the Friends also hold regular events such as Covid-compliant weekly litter-picks including a huge community clean-up, alongside Plogolution and other groups, which kick-started Wandsworth Council's Love Parks campaign at the start of the month.
"Apart from clearing up people's mess," said Julia. "The litter-picks are also a good way of socialising and exercising. One octogenarian lady wrote to us after we had restarted the picks saying how lovely it was for her to be out and about meeting friends again."
"Wandsworth Common is a Grade 1 site of borough importance for nature conservation and that's why the focus here is its ecology and diversity," added Richard. "So, it's not a park and the prime focus of this site is the flora and fauna. In a way the humans have the privilege of being amongst it!"
The natural beauty and ecological importance of the Common is key to the host of activities which the co-chairs are eagerly looking forward to resuming again now that the lockdown is easing.
"Most of our walks and talks are nature-focused," said Julia. "We try to get experts in their fields and we've had trees, bees, birds, bats and butterflies and last year we had a very entertaining talk on flies! We have been hosting some online talks during lockdown and last Sunday we had our first socially-distanced bird walk with just a few people which was, to be honest, better for birding."
"And we are very lucky because we have two authoritative birders (one the official recorder) and a butterfly expert/recorder who live locally and submit their sightings into a central database. We're hoping to be part of a big project next year on butterflies," said Richard.
Apart from hosting a busy events calendar, the Friends also pride themselves on being an active campaigning group. For example, they have taken on and expanded a swan and duck food bagging campaign in which recyclable bags are filled with eco-friendly food in a bid to discourage people from feeding bread to the wildlife. They have also been working with the council and Enable Leisure and Culture to introduce recycling on the Common and, alongside the MAC, reinstate drinking fountains to reduce the need for single-use plastic.
"We're also very lucky to have the support of the council, and their parks and open spaces contractor Enable Leisure and Culture, who have helped us greatly with the work we do," said Richard.
From spending just a few minutes in the company of the couple you are bowled over by their enthusiasm and passion. But what is so great about Wandsworth Common?
"I love the sense of countryside," said Julia. "It's because it's a little bit wild and in certain areas you really feel like you're in the centre of a woodland and when you are surrounded by trees it induces a sense of wellbeing. We love to exercise and we're on the Common most days so it's a bit like our own backdoor gym!"
"And one of the things of most importance to me are the trees," said Richard. "I love those long views where you can almost look from one end of the Common to the other and you just see a long line of trees – some of them planted in the 1850s!"
Next July is a special anniversary as it will mark 150 years since the passing of the Wandsworth Common Act which secured the Common's future and preserved the shape of it pretty much as we see today. A string of events are planned including a book, tree planting, walks and talks and a big party.
Councillor Sutters, Wandsworth Council's cabinet member for community services and open spaces, adds, "We are lucky to have so many active friends groups, with volunteers who give up their time to support our wonderful parks and open spaces, and help make them what they are.
"Each one is also a wonderful community, where you can meet new people and it's a fantastic opportunity to learn about the wonderful nature we have on our doorstep, and about the outdoors."