Lower speed limits on the way on five busy B-roads
Published: Tuesday, August 4, 2020
Signs will shortly be installed informing drivers that new lower speed limits apply on some of the borough's busiest B-roads.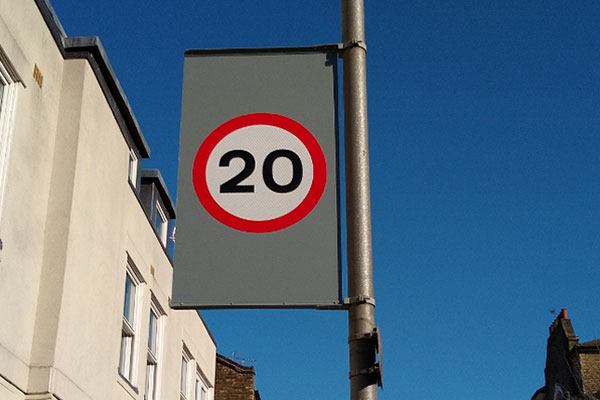 Following a detailed public consultation held at the end of last year, five roads are being added to the existing borough-wide 20mph zone which has seen a lower limit in place in virtually every residential side street in Wandsworth since 2017.
The B-roads where the lower limits will apply are:
Silverthorne Road
Northcote Road
Bolingbroke Grove
Bellevue Road
Rectory Lane
These were not included when the main scheme was introduced in 2017, along with the main trunk roads that form part of Transport for London's network of red routes.
But when local people were asked earlier this year if they supported their inclusion in the borough-wide zone, the results for each showed a clear majority in favour. In some cases the vote in favour topped 83 per cent.
Signage advising motorists that they need to stick to the new 20mph limit will be installed in these five B-roads over the coming days.
The council's transport spokesman Cllr John Locker said: "Lower speed limits should mean safer streets and this will hopefully encourage other forms of sustainable transport like cycling and walking.
"Accidents involving collisions between pedestrians and vehicles are three times less likely to be fatal if the speed of the impact is 20mph compared to 30mph.
"Studies have shown that at 30mph, 55 per cent of collisions result in a fatality while at 20mph this figure plummets to just 17 per cent.
"We believe this change could also prove beneficial for local air quality too. A study by Imperial College found that diesel vehicles with engines of between 1.4l and 2.0l produce fewer harmful emissions at 20mph than at 30mph while smaller petrol and diesel engine vehicles both generate fewer particulates when driven at this lower speed, so this change has the potential to bolster our efforts to reduce pollution."
Enforcement of speed limits is carried out by the Metropolitan Police, with the council working in support of their efforts. Any revenue generated by speed fines goes direct to HM Treasury - not the town hall.
For more information visit www.wandsworth.gov.uk/20mph.
Last year the council declared a climate emergency and set targets to become carbon neutral by 2030 and a zero-carbon organisation by 2050. To find out more visit the council's website.