Wandsworth Guys Get Active
Published: Tuesday, August 25, 2020
Guys Get Active has launched its new programmes after a pause during lockdown.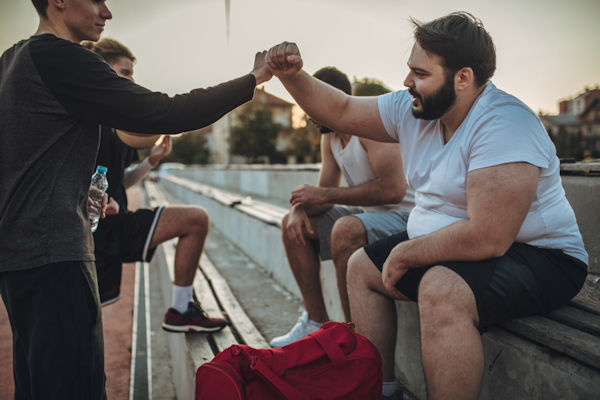 Guys Get Active is a weight loss programme designed specifically to support men who want to lose weight and get active.
There are two exercise sessions to choose from; a face to face session which incorporates circuit training and football games, or a virtual session which focuses solely on circuit training through bodyweight exercises.
All exercises can be adapted to suit individual needs, so both sessions are suitable for all fitness levels and football abilities. Support will be delivered by qualified coaches, instructors and nutritionists
To be part of this programme you need to be male, 18+, live, work or be registered with a GP in the Wandsworth borough and have a BMI of 27+, or a diagnosis of Type II Diabetes. The face to face session is held on Mondays from 7pm to 8pm at Tooting Bec Athletics Track and Gym, SW17 8AR. The virtual exercise session is held on Wednesdays 7pm to 8pm and virtual nutrition sessions on Thursdays from 7pm to 9pm. Both are delivered via zoom.
One participant said 'The program is good for me, because when it first started, I was new to the area and did not know many people and was looking for a way to get active again. I used to play football in my youth to a decent level, but I didn't want to join one of these leagues as I knew my fitness levels were severely below par. Guys Get Active enables a nurturing environment to play football in whilst building up fitness and the games have a good level of competitiveness to them and your fellow members help cheer you on in your weight loss goals."
Wandsworth Council's cabinet member for adult social care and health, Cllr Melanie Hampton, said: "Guys Get Active is a brilliant scheme and is exactly what we need to get the borough's men up and moving after the lockdown. Getting just a bit fitter can have so many positive benefits to your health and this is a fun and friendly way to do it."
To sign up or for more information visit www.enablelc.org/guysgetactive, or contact the Guys Get Active Coordinator at activelifestyles@enablelc.org or on 020 3959 0039.