#MyWandsworth is our campaign to keep the borough looking clean and tidy, thanking everyone who does their bit for the environment. At the same time, we'll crack down on the inconsiderate minority who ruin it for everyone and drop litter or fly-tip.
Our street cleaners, road sweepers, rubbish collectors and enforcement officers work 24/7 to make sure your neighbourhoods are clean and litter free:
More than £4.3 million a year is spent on cleaning your streets
Our busy town centres are cleaned up to five times-a-day
We clean more than 400km of streets every week.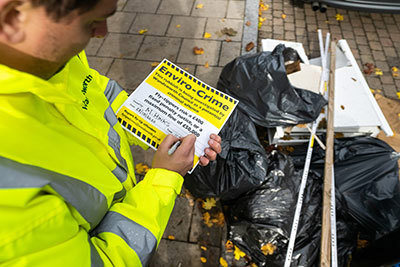 But this isn't enough. An inconsiderate minority think they can get away with spoiling our borough.

They can't. Our enforcement teams crack down hard on people who fly-tip and litter our borough.
Between November 2019 and the end of October 2020 we issued 5,569 fines for littering and fly-tipping offences.

In tandem with enforcement action, we want to send a clear message to litter louts that what they do is unacceptable by celebrating what's best about Wandsworth.
The vast majority of us take great pride in the local area; we want to harness that pride and use it to our advantage!
How to get involved
There are many different ways you can get involved in MyWandsworth:
If you have any questions about the campaign, and how you can get involved, please email mywandsworth@wandsworth.gov.uk.