Huge flytip on Balham council estate linked to private address a mile away
Published: Tuesday, December 17, 2019
One local resident can look forward to a knock on the door from the council's litter squad following an investigation into the discovery of a huge flytip on a Balham housing estate.
As part of the ongoing investigation a resident in Nimrod Road will need to answer questions as to how waste from their address was found dumped by garages on a housing estate just over a mile away in Dornton Road.
Evidence linking the flytip to their address was found amongst a pile of debris found on Thursday, including unwanted beds, mattresses an ironing board and large amounts of broken furniture and timber.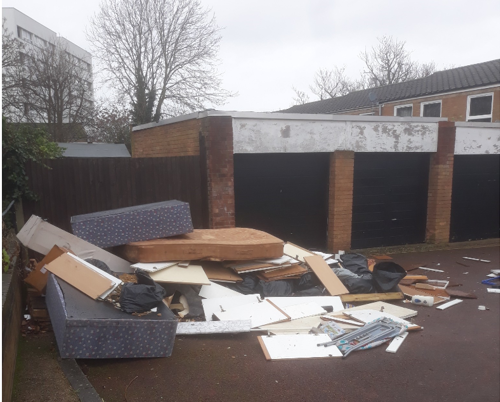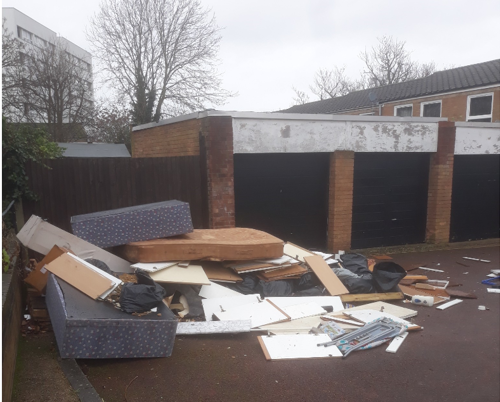 As a result of the flytip discovery, the householder could now face prosecution. The maximum penalty that can be imposed by the courts following conviction for a serious flytip offence is an unlimited fine and/or a prison sentence of up to five years.
Residents having work done on their properties should always check with their builders and other contractors precisely how they will be disposing of any waste materials.
They should be extremely wary of people knocking on their doors unannounced and offering to take away their rubbish.
Cowboy waste contractors often drive around residential areas looking for homes that are being refurbished or cleared. They will approach the owner and offer to take "junk" away for a cut-price rate.
But instead of taking it to a proper waste disposal site and paying the appropriate fees, they simply dump it somewhere nearby – often in parks or other open spaces – leaving taxpayers to foot the clean-up bill.
In these cases it is not just the flytipper who is committing a crime – the householder who paid them is also liable under the law.
Wandsworth's Environment spokesman Cllr Steffi Sutters said: "This shocking discovery shows just what councils are up against when it comes to the professional flytipping industry.
"Unfortunately there are plenty of cowboys cruising around residential areas in vans looking for homes with waste that needs removing.
"Often the householders are delighted to get rid of it on the cheap – and don't think they're doing anything wrong – but in reality they are committing an offence for which they could face serious legal sanctions as well as getting a criminal record.
"And on top of that both they and all their neighbours end up paying the clean-up bill so it ultimately ends up costing them a lot more than they think."
Residents wanting rubbish cleared can call the town hall on (020) 8871 8558. The council will remove waste for a modest fee. If households choose a licensed private contractor instead they must make sure they check the license details and get both a proper receipt and a waste transfer note.
Anyone with information about rubbish being dumped should email flytipwitness@wandsworth.gov.uk.