Mayor's reception for award-winning community groups
Published: Monday, February 18, 2019
Two organisations who have worked tirelessly for the local community have been recognised for their efforts by the Mayor of Wandsworth.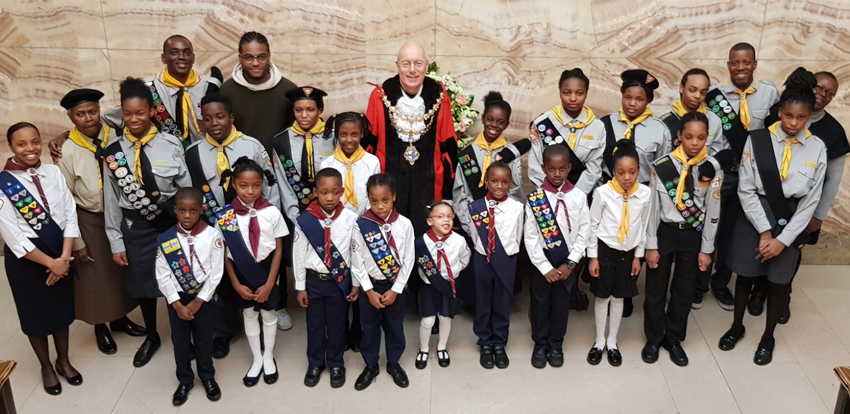 The Balham Pathfinders and Adventurers Club meet the mayor
The Balham Pathfinders and Adventurers Club and Regeneration UK and the Feel Good Bakery were both recipients of London Faith and Belief Awards 2018 from the Lord Lieutenant of Greater London, Sir Kenneth Olisa, who described award-winners as "people giving to other people, bonded by faith and belief".
Today (Monday) representatives of the two winning Wandsworth organisations, including a group of young people from the Balham club, were invited to a reception in the mayor's parlour and given a tour of the town hall by Wandsworth mayor Cllr Piers McCausland.
The Balham Pathfinders and Adventures Club, based at the Balham Seventh-day Adventist Church, helps more than 40 children learn how to be good citizens, live an holistic life, develop spiritual and physical well-being and work for the local community.
Joint secretary of the club Natasha Sharmah said she was grateful that the work of the club had been recognised. "We really appreciate the mayor finding the time for us to come here. It's a unique opportunity for the children to appreciate the impact they have had as citizens and to learn about local government and the work of the mayor."
Regenerate UK provides support and opportunities for Wandsworth's young people, including the Putney-based Feel Good Bakery which supports, trains and employs young people to help them develop skills to prepare them for the workplace.
Cllr McCausland said both charities were good examples of people inspired by their faith to work for their local communities. "They show that religious organisations and buildings can still be at the very heart of their communities, inspiring people to help others and improving the lives of thousands of people."