Moving forward after a stroke
Published: Friday, February 22, 2019
Have you been affected by a stroke? Sign up now for the 12-week Moving Forward After Stroke course.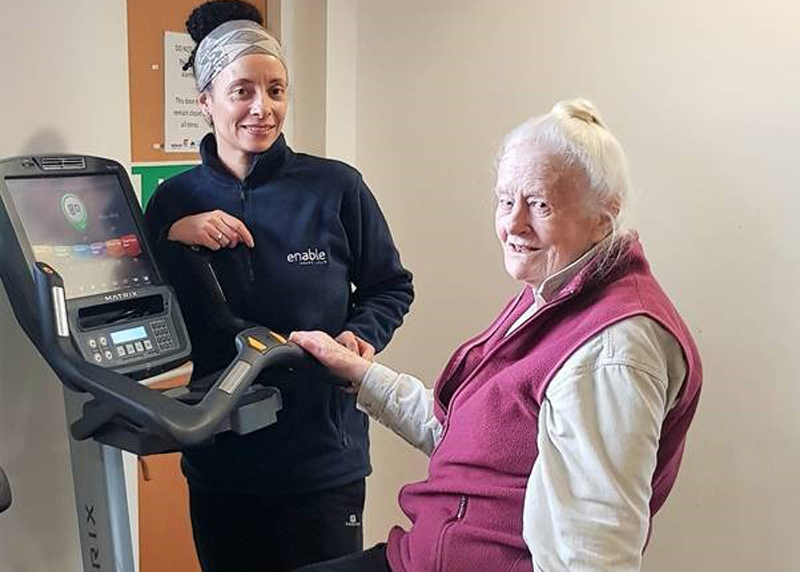 Rosemary Spiller
The exercise course is designed to help people affected by stroke increase their fitness and function.
Wandsworth is one of eight areas taking part in a national pilot designed and funded by the Stroke Association. Enable Leisure and Culture, which delivers sports and fitness services on behalf of Wandsworth Council, is working in partnership with the Stroke Association to deliver the programme at Battersea Park Millennium Arena.
Exercises focus on improving strength, stamina, mobility and balance. The programme also includes health and wellbeing sessions to help participants live healthy lifestyles.
So far, the results of the programme show that 100 per cent of completers improved their leg strength and walking speed and 71 per cent of participants also reported improved mental wellbeing.
Rosemary Spiller, aged 85 from Putney, suffered a stroke in March 2017. She completed the course in June 2018 and now continues to attend a weekly gym session.
Rosemary said: "I have made terrific strides here, because it's a small group and excellent staff. They really know what they're doing and build you up over the 12 weeks. I've noticed I've gained strength and I've even started to go upstairs.
"I was delighted to be doing a course that was showing benefits so quickly. The whole thing has helped my emotions, I'm much happier one way or another. I feel I'm getting back to normal. I'm considerably better than I was before I started."
The next Moving Forward After Stroke Course starts in March 2019. To find out more contact Beth Brown, Health and Wellbeing Officer, Enable Leisure and Culture on 0203 959 0031/0746 735 3487 or email bbrown@enablelc.org