Support given for Nine Elms Pimlico Bridge preferred location
Published: Thursday, February 14, 2019
Members of the council's finance committee have given their support to the preferred location of the new cycle and pedestrian bridge in Nine Elms.
Last night (Wednesday) members of Wandsworth's Finance and Corporate Resources overview and scrutiny committee supported the location identified by the bridge design team appointed by the council.
The recommended location crosses the river between Grosvenor Road riverbank (west of Claverton Street) on the north side of the Thames at Pimlico and Kirtling Street, near Battersea Power Station in Nine Elms on the south side.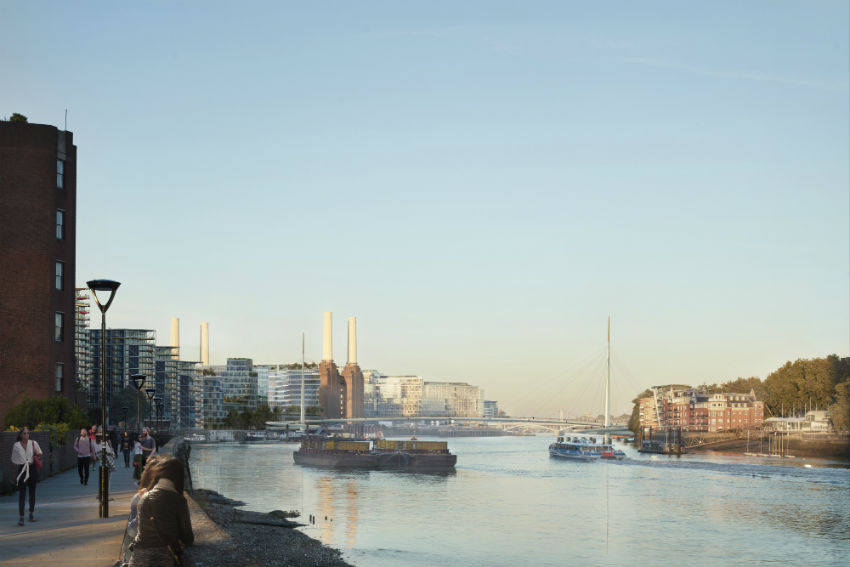 Visualisation of Nine Elms Pimlico Bridge looking westbound
The proposal for a new pedestrian and cycle bridge in this location is consistent with the pedestrian and cycle policies of the surrounding local authorities and the Greater London Authority, and is in line with the Mayor's Transport Strategy.
A new pedestrian and cycle bridge across the River Thames was identified as one of the transport infrastructure measures required to support the growth of Nine Elms opportunity area which will see the creation of 20,000 new homes and 25,000 jobs as well as culture and leisure opportunities. A bridge in this location, along with a two station extension to the northern line and highways improvements, will ensure the area is highly accessible and connected with the rest of central London.
The location was recommended following an extensive consultation process with the public and stakeholders, alongside technical investigation into three feasible location options.
The support means the project will now carry out further technical validation work and meet with affected stakeholders to understand any concerns so they can be addressed in future phases of the project.
Find out more about the proposed bridge on the Nine Elms Pimlico Bridge website