Community schemes get council grants
Published: Monday, February 17, 2020
A wide range of projects helping community groups support local people have shared the latest wave of funding from the Wandsworth Grant Fund.
This is the 13th round of funding from the council's grants scheme since it launched in 2015. During the 2019-20 financial year £293,643 has been given out to 65 deserving groups and projects, including £32,960 towards running this year's annual Wandsworth Arts Fringe in May.
Some of the successful applicants will receive funding for projects that support the council's Environment and Sustainability Strategy. These include work connecting local people to nature and an urban orchard.
Projects that help people with disabilities and asylum seekers and refugees have received funding, as well as support for young people, including mentoring, therapy and help with reading. The council's focus on tackling social isolation will be supported with grants to Age UK Wandsworth and other community groups.
Projects receiving funding include:
CARAS: Refugee women will be recruited and supported to become active members of a local community garden
Little Village: The Roehampton Satellite project will help Roehampton families get the essential things they need for children under five, plus access to volunteering opportunities.
Share Community: Share's healthy cookery classes will deliver a series of healthy cookery workshops to adults with a learning disability.
CoDa Dance Company:  The Rewired project will deliver an immersive dance performance at the Royal Hospital for Neuro-disability and will offer weekly dance classes.
The Rena Initiative: Workshops led by broadcast professionals to create a piece of broadcast art. They will be open to all 11-18 year olds, but are particular targeted and people from diverse, alternative and financially underprivileged backgrounds.
Devas Club: The Foodies Club will engage young people in the process of preparing meals. 
Weave Stories CIC. A dance project working with a group of 15 young people with special communication needs.
Family Action. A 12-week creative therapy group for children affected parental mental illness and a 10-week course for parents with mental health problems.
Transition Town Tooting: Sharing Seeds will offer workshops where participants from groups who currently have barriers to connecting with nature can sculpt small creatures from clay, compost and seeds and then place them at the base of street trees.
Baseless Fabric Theatre:  An adaptation of Bizet performed in local high streets, plus workshops to help people engage with opera.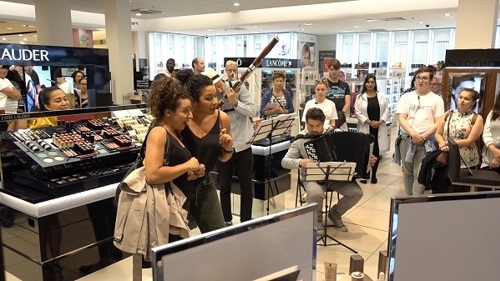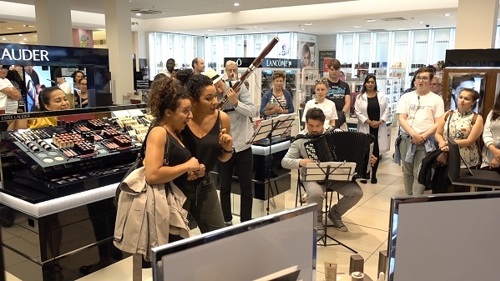 Baseless Fabric Theatre
Central Wandsworth Guides: Adventurous activities for girls at an Activity Centre to encourage mixing between diverse groups and leadership development.
St George's CE Primary School: The Happiness Garden will provide a natural teaching environment.  
The Arts Salon: Sounds of Southfields will be the first ever music festival in Southfields and will run over three days in June.
Attic Theatre Company: Many Voices works with adult female refugees and asylum seekers building language, skills, independence, employability and integration through games and drama, culminating in a public performance. 
Sport4Health. A sports and social club for 20 residents aged 55 and over at Battersea Sports Centre to improve their health and wellbeing. Priority will be given to people who are isolated and/or on a low income.
Regenerate. Get Leading is a leadership development programme for young adults who may be at risk of social exclusion, crime or gang culture. The grant will enable the scheme to expand.
Battersea Arts Centre: Taster dance workshops in three schools in Battersea and Roehampton followed by hip-hop and street dance workshops.
Age UK Wandsworth: Out and About in Roehampton will help isolated people who are confined to their homes or have mobility issues. Volunteers will help them visit social activities, appointments or just visit the supermarket. The grant will enable the scheme to be expanded from central Wandsworth into Roehampton.
Caius House: Cyber Hive Buzz will use virtual technology to reach out to young people in the form of podcasts, social media, online courses and online forums. 
Learn to Love to Read: A training package will be developed to help parents of young children prepare them for reading.
Bookmark Reading Charity: A volunteer recruitment campaign to help provide Bookmark Boxes in local schools.
Leonard Cheshire: Funding will support the charity's Keep Warm Keep Well project to help vulnerable people live independent lives, gain new skills and keep themselves safe and warm during the winter.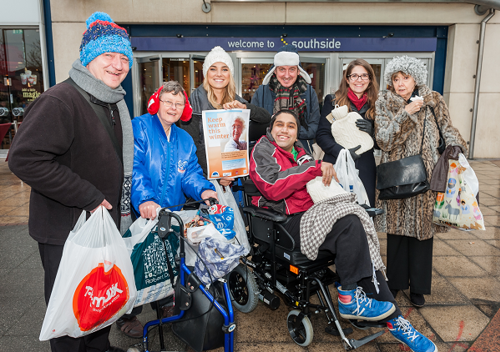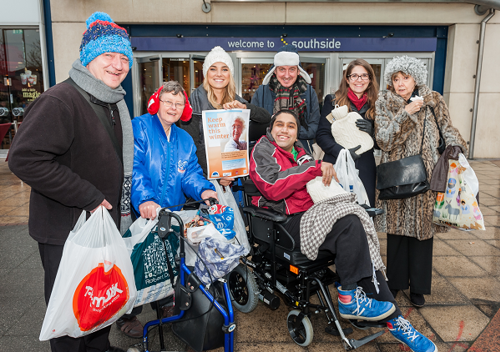 Leonard Cheshire winter campaign
Riversdale Primary School Parent and Teacher Co-operative: An urban orchard of fruit trees will be created in the playground, plus further improvements to absorb pollution, encourage wildlife and develop a better understanding of the natural world.
St Mary Magdalene Church: New, accessible WC facilities, baby change and kitchenette at the church
Somali Community Advancement Organisation: A weekly club to reach out to isolated housebound older Somali women.
5th Putney Sea Scouts: Improvements to the outside space at the Putney Embankment hut including landscaping and installing a camp fire area, flower beds and picnic benches.
Citizen's Advice Wandsworth : To deliver a series of advice training workshops to address hardship through placing advice in communities.
The Wandsworth Grant Fund supports a wide range of not-for-profit activities in the following categories:
•             Arts and Culture
•             Environment and Attractive Neighbourhoods
•             Children and Young People
•             Citizenship and Civic Engagement
•             Raising Aspirations and Potential
•             Health and Well being
Applications to the Wandsworth Grant Fund require the backing of ward councillors. Evaluation and assessment is done by specialist council officers, and councillors scrutinise the process to ensure value for money and that money is going where it will most benefit borough residents.
Grants committee chairman Cllr Louise Calland said: "Since we launched the Wandsworth Grant Fund we have helped fund projects that have supported hundreds of local people and awarded more than £1.2m in grants. This latest round of recipients includes some really exciting, innovative projects and I look forward to watching them develop.
"Local groups who think they could benefit should get in touch with their local councillor to see if they could be eligible."
To find out more:
•           Visit www.wandsworth.gov.uk/wgf
•           Email wgf@wandsworth.gov.uk
•           Follow @grantswandb on twitter