Cooking masterclass for young chef finalists
Published: Friday, February 14, 2020
Finalists in the seventh annual Wandsworth Young Chef of the Year competition have been getting expert advice on how to prepare and cook fish and bake cakes.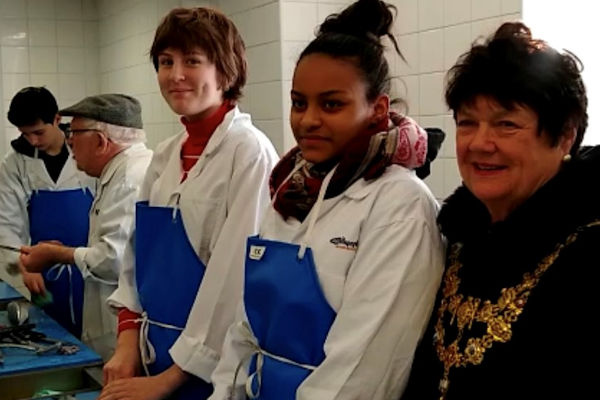 They were taken on an early morning trip to Billingsgate Market for a masterclass in how to source, select and fillet fish and prepare it for the table. This was followed by a trip to Burntwood school for the lesson in cake making (see video below).
The masterclasses are part of the training and mentoring given to the young chefs ahead of the final on March 26. The schools taking part are Burntwood Academy, Southfields Academy and Graveney Academy.
Wandsworth Young Chef, run by the Mayor of Wandsworth and the council's lifelong learning team, teaches young people how to cook good healthy food to a budget, and gives them the opportunity to access training, mentoring and valuable experience in the catering industry with a view to helping them get jobs in the future.
Support is being provided by the South Thames College catering school, Billingsgate and catering company Compass, which has been involved with the competition since it launched in 2013.
The young people were joined at Billingsgate by the Mayor of Wandsworth, Cllr Jane Cooper. She said: "Thanks again to Billingsgate Seafood School which every year provides a fascinating masterclass for our finalists, and to all the people and companies that have provided their expertise. I'm really looking forward to the final and tasting the dishes our young chefs prepare."