Councils call on PM to cancel third runway after court rules against Heathrow expansion
Published: Thursday, February 27, 2020
Councils have called on the Prime Minister to cancel Heathrow expansion following today's Court of Appeal ruling.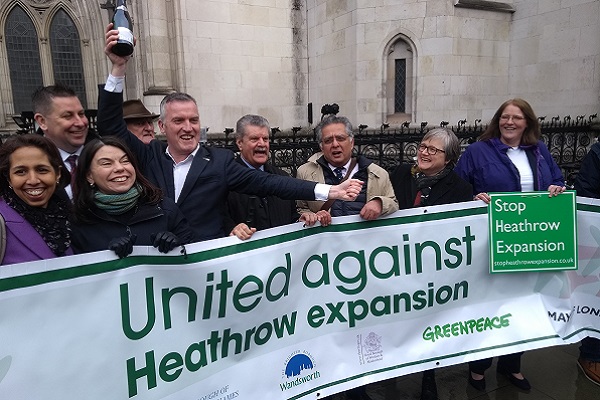 The Court of Appeal found that the Government had not taken into account the requirements of the Paris Agreement on Climate Change when drawing up its national policy statement (ANPS) giving support to Heathrow expansion.
The Court said that the ANPS is legally ineffective unless and until it is reviewed by the Government. Ministers said today they would not appeal the ruling.
The councils – Hillingdon, Wandsworth, Richmond upon Thames, Hammersmith and Fulham and Windsor and Maidenhead together with the Mayor of London and Greenpeace– had challenged the ANPS alongside environmental groups Plan B and Friends of the Earth.
The councils said today that the Government now had a duty to put an end to the years of anxiety and uncertainty suffered by communities affected by airport expansion plans. This time, they said, no third runway should mean no third runway.
Cllr Ravi Govindia, Leader of Wandsworth Council said: "The decision will be a massive relief for Londoners and people in the Home Counties affected by Heathrow. It shows that no government can expect to drive through major expansion plans without properly considering the full environmental and climate change impacts.
"It's also a terrific win for the local authorities who have fought a long battle on behalf of their communities. If democratically-elected councils won't stand up for their residents' interests and protect their quality of life – who will?"
Cllr Gareth Roberts, Leader of Richmond Council, said: "Today's ruling really must mean the end for Heathrow's never-ending greed for growth. It's the second time we have won for our residents. In 2010 we defeated a previous government's policy on expansion. Take the hint - Give up!
"This time local people deserve to be given a lasting assurance from the Government that no further attempts will be made to revive this flawed plan.
"The runway was always unbuildable. It would have run a very high risk of breaching legal air quality limits and would have fatally undermined the Government's own zero carbon targets.
The call from the councils follows a statement to the house by Secretary of State for Transport Grant Shapps confirming that the Government will not be appealing today's judgement.
Mr Shapp's statement concludes: "It is critical that vital infrastructure projects, including airport expansion, drive the whole UK economy, level up our regions, and unite our country."
Cllr Govindia added: "With Heathrow expansion now dead and buried the Government can get back to working out a fair UK-wide policy on airports capacity. This will spell out how as a nation we can deliver net zero emissions.
"A new approach to airports policy is needed if we are to make best use of existing runway capacity and ensure that any additional growth is assessed in the context of climate change impacts .
"This must look at the effects on other parts of the UK which would lose connectivity if new airport expansion were to be massively concentrated in the South East and the Government's own plans for levelling up between the South East and the rest of the country."
The full statement to the house can be read here