E-Cargo bike trial launches in Tooting
Published: Wednesday, February 5, 2020
A Tooting e-cargo bike initiative launched on Monday is part of a solution to improve air quality in the Tooting area.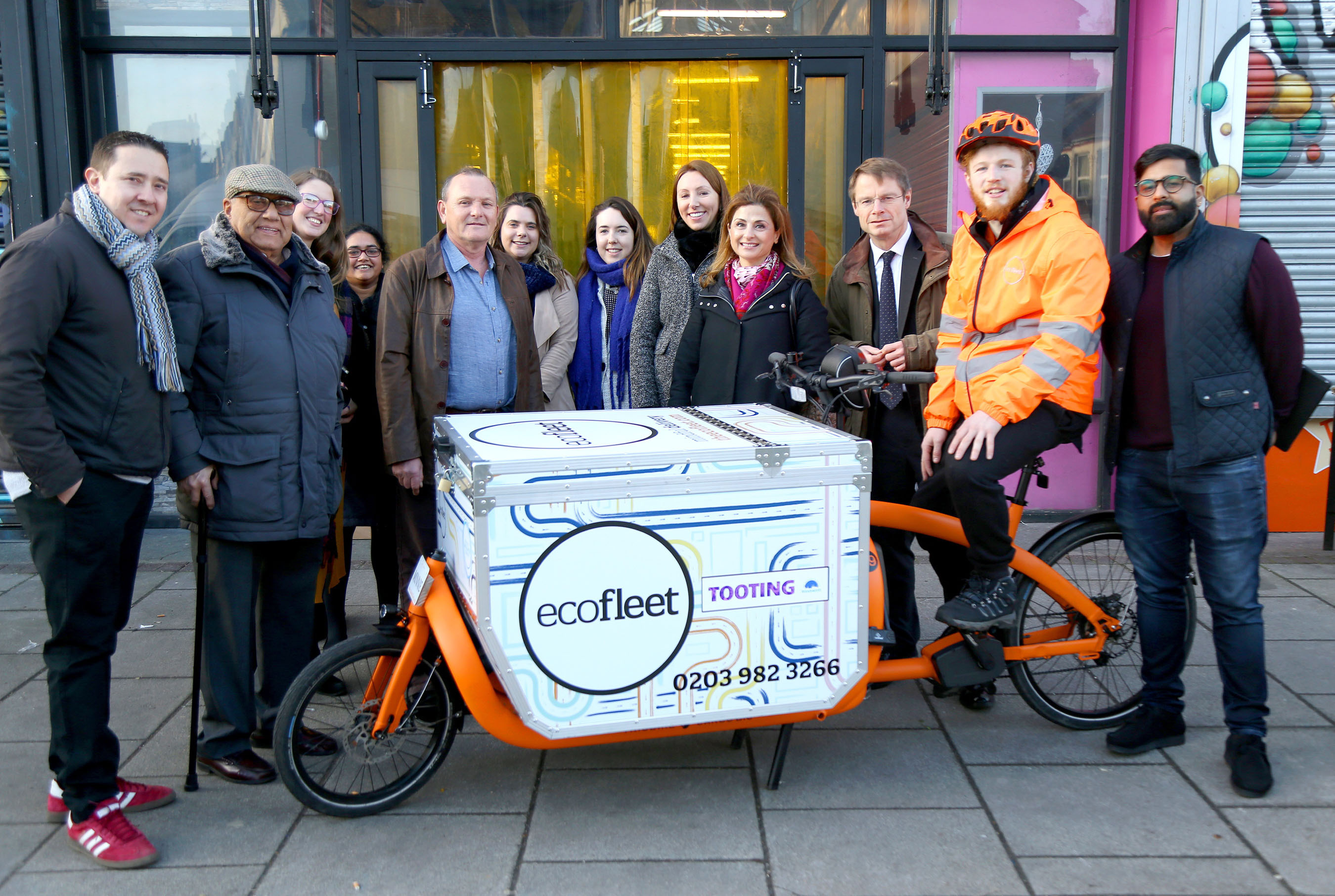 The scheme has been put in place to help ten businesses that have registered to change their local deliveries to e-cargo bike. This engagement is part of the Clean Air Villages (CAV) which is funded by DEFRA and the Council while being managed by the Cross River Partnership, who are the project leads for CAV.
Tooting was chosen as a Clean Air Village due to its poor air quality. The e-cargo delivery bikes are the local solution to reduce congestion and carbon emissions from deliveries. The scheme is running for 10 weeks and will measure the overall impact e-cargo bikes has on local air quality.
EcoFleet, the e-cargo bike company providing the service, is a local business in Nine Elms. The e-cargo bikes they provide are the sustainable, zero-carbon answer to carbon-emitting delivery vehicles. In London, around half of air pollution stems from road transport and of that one third from freight vehicles.
Air quality is a serious concern for both the community and the council due to the harmful health impacts that poor air quality can have. Wandsworth council has a team dedicated to improving air quality in the borough who attended Monday's launch. Councillor Ellis, who is the cabinet member for air quality in Wandsworth Council was also there.
He said, "We have every hope that this trial is a success so we can roll this initiative out as a permanent fixture in all our main shopping areas.
"We are delighted by what we've seen today and are proud to be supporting a sustainable business like EcoFleet who has tackling climate change at their core. If this trial is a success, it could have a long-lasting positive impact not just in Tooting, but the entire borough."
Reducing congestion and carbon emissions will not only benefit the community's health but will also contribute to the council's overarching target of becoming carbon neutral by 2030. This target was stated in its recently approved Climate Change Action Plan which included a dozen actions designed to improve air quality.
Cllr Ellis added "This was an air quality initiative I was particularly excited about. Sustainable modes of transport such as E-bikes and electric cars are one of the best ways to reduce carbon as their effect is immediate."
Councillor Jonathan Cook who is the cabinet member for economic development and works as part of the Clean Air Villages project also attended the event.
He commented, "The businesses that we hope will sign on to this initiative should hopefully start to see big improvements in the quality of the air that they breathe. Small businesses are particularly vulnerable to air pollution as they are often close to the roads and are regularly subject to idling delivery vehicles."
The e-cargo bike trial ends in ten weeks and will then have its effectiveness evaluated. However, it is one of many other measures taken by the council to improve air quality in the borough. These measures include working with contractors to reduce pollution from building, lobbying for cleaner buses, installing an extensive network of car charging points, working with schools to prevent vehicle idling and promoting sustainable travel and recruiting volunteer Air Quality Champions – members of the community who help spread the word about what people can do to reduce air pollution.
If you are a business owner in Tooting and would like to find out how to save time and money while improving air quality, contact Kate Fenton - katefenton@crossriverpartnership.org.