Key town centre regeneration scheme gathering pace
Published: Thursday, February 6, 2020
Work is proceeding apace on a landmark Wandsworth town centre regeneration and investment scheme.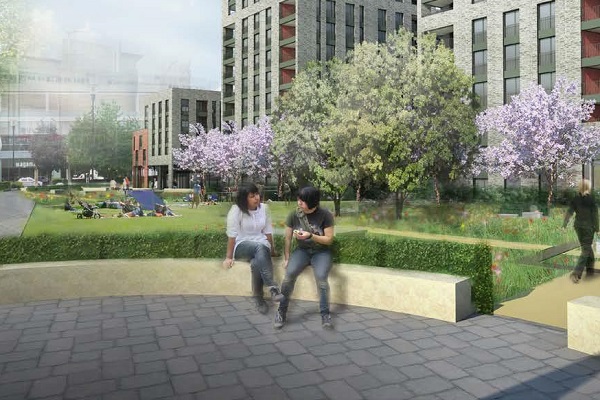 Key sites in the high street and Garratt Lane are being redeveloped to provide 200 new homes, a better public library, new shops and a more attractive town centre green space.
The sites are being developed by London and Quadrant Housing Trust which purchased the land from South Thames College and Wandsworth Council earlier this year.
They include the former housing department offices in Garratt Lane, plus two other surplus buildings fronting the high street.
A central part of the scheme is to make better public use of the Old Burial Ground in Garratt Lane, which is an important but underused green space.
New pedestrian links will be opened up providing a direct route from this green amenity into the High Street.
The new state-of-the-art library will also form part of this route. It will open up onto a newly created public square, directly adjacent to the burial ground, which will have seating and play space for children under five.
The Old Burial Ground will also benefit from a facelift and see attractive new features installed including new public art and additional seating.
Council Leader Ravi Govindia said; "This is a key regeneration scheme that signals real confidence in the ongoing vitality and economic fortunes of Wandsworth town centre.
"The scheme is not only delivering new homes, new shops and new jobs, but also a state-of-the-art public library. And it will breathe new life into the Old Burial Ground which is an important but somewhat underused open space.
"It has for many years been used as little more than a convenient cut through for people walking from Garratt Lane to St Ann's Hill.
"This scheme will transform it into a much more useful and welcoming green amenity that is better used by local people. This is why we have designed these proposals so that the new public library opens out onto this small park and why it will offer new pedestrian links through to the new shops and homes on Wandsworth High Street."
The development is seeing three ageing office blocks replaced with four new high quality buildings, designed by award-winning architects.
A quarter of the 200 new homes will be offered to eligible local residents to rent or buy at a discounted rate.