Second phase begins on a major estate regeneration in Battersea
Published: Monday, February 24, 2020
An estate regeneration project in Battersea has entered into its second phase which will see the delivery of 198 affordable new homes.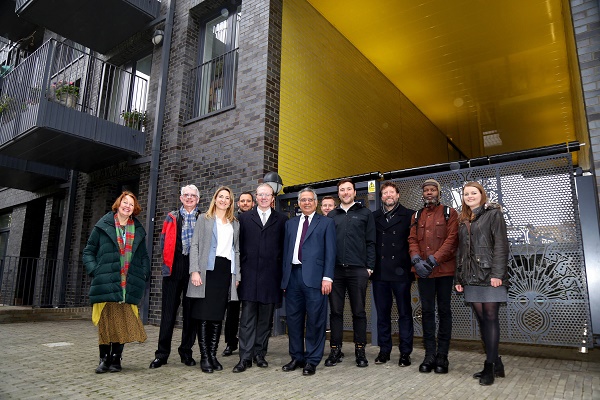 Phase one has already delivered 154 affordable and market homes, and now work has begun on Phase two of the St John's Hill Estate regeneration.
Phase two of this ambitious regeneration, opposite Clapham Junction station, will provide 198 homes that are all affordable, including a 54-home extra care London Affordable Rent scheme, and a new community centre for local people. In addition, all existing residents that wanted to return to the regenerated estate will be in their new homes once Phase two is completed.
The three-phase regeneration of the 1930s Peabody estate will see a total of 599 homes completed by 2024.
Cllr Ravi Govindia, Leader of Wandsworth Council and Cllr Kim Caddy, cabinet member for housing, along with other Peabody representatives and designers Sisk, were given a tour of phase one by Brendan Sarsfield, Chief Executive at Peabody, before visiting the works on-site at phase two where construction is now underway.
Councillor Ravi Govindia said: "We're delighted to see this scheme make real progress, as we have now entered into phase two of the development with our partners, Peabody. We continue to support our vulnerable residents and welcome the delivery of extra care housing on this scheme of which ten per cent  will be wheelchair accessible. "
Cabinet Member for Housing, Councillor Kim Caddy, added: "All new homes in this scheme will be built with private amenity space and feature high quality landscaping, a play area and a central open space. Our ambition remains and that is through our own efforts and working with our partner housing associations, such as Peabody, that we will significantly increase housing offers and opportunities available to residents and the workers of Wandsworth."
Peabody Chief Executive commented: "We were pleased to show councillors around St John's Hill as work on phase two gets underway.  This development will deliver new top quality, sustainable and affordable homes, more open space, gardens and trees than before, a new community centre, and 54 homes offering additional support for the most vulnerable people."