Works begin on first phase of affordable homes as part of the Alton Estate regeneration
Published: Friday, February 7, 2020
Wandsworth Council, in partnership with UK house builder Redrow Homes, has begun work on a development of affordable new homes at Bessborough Road, marking the start of the wider Alton Estate regeneration Programme in Roehampton.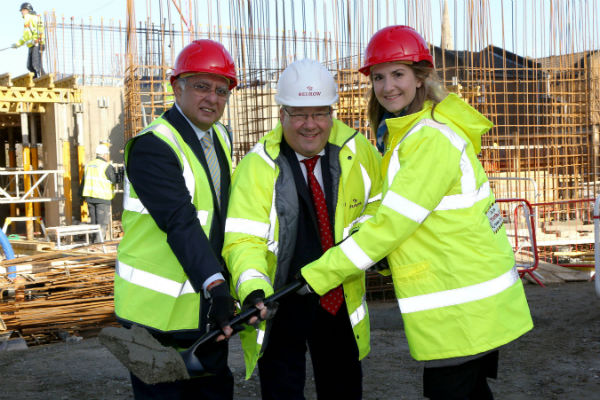 The initial phase will deliver 10 new council homes for existing residents, comprising of five flats and five maisonettes, each with access to either a private garden or private balcony. The new homes will be fully adaptable to meet the mobility needs of residents, with one maisonette being designed specifically for wheelchair use. Residents will also benefit from bike storage, a children's play area, and landscape improvements to the green space outside of the homes.
Cllr Ravi Govindia, Leader of Wandworth Council, and Cllr Kim Caddy, cabinet member for Housing, joined forces with Mark Parker, Chief Executive of Redrow's Greater London region, at a breaking-ground ceremony on 29 January and construction is now underway.
The proposed plans for the wider regeneration project, Alton Green, will see the delivery of over 1,100 new affordable and private homes as well as a wide range of amenities for new and existing residents to enjoy.
Community features will include a new village square and multi-purpose community building to host the new Roehampton Library, a modern health centre, spaces to rehouse the BASE Youth Club, and a new community hall. The retail area will include a convenience food store and a range of new and replacement shop units. New office accommodation will also be provided with units set aside as affordable workspace for small businesses and the voluntary sector. Additionally, a new community hub within the Parkland Quarter will host the new Eastwood Nursery School Centre for Children & Families, alongside health, retail and residents' facilities.
Cllr Govindia, said: "This hugely ambitious regeneration scheme will deliver more than just new homes. It will re-energise Roehampton and provide state-of-the-art community facilities that will benefit everyone who lives in this part of the borough.
"We are delighted to see work begin on the first set of homes and are committed to vastly improving living conditions for our residents."
To coincide with the start of construction, Redrow has erected hoardings which features paintings by pupils from Heathmere Primary School on the theme of "My favourite thing about Roehampton", which includes London buses and deer from Richmond Park.
Mark Parker, Chief Executive of Redrow's Greater London region, comments: "We are delighted to have commenced work on the first homes for existing residents as part of the momentous Alton Estate regeneration project.
"Since being appointed as a development partner in 2017, we have worked closely with Wandsworth Council and the local community, building on earlier engagement to develop a set of proposals that will breathe new life into Alton Estate. Our shared vision is to create a sustainable new community that combines new homes with important community infrastructure. We are eager to progress with the next stages of the project in the coming months."
For more information about the regeneration email roehampton@wandsworth.gov.uk