Beware blue badge copycat website
Published: Wednesday, January 30, 2019
The council is warning people applying for a parking blue badge about a copycat online application website which will charge them £49 for a service usually provided for free.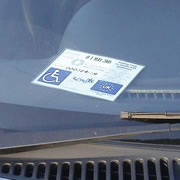 The Blue Badge scheme gives parking concessions to people with severe mobility problems, whether they are travelling as the driver or a passenger.
The website, called Bluebadge-uk.com, offers to help with the application in exchange for a fee. This website is not associated in any way with the council, or with the government. The real site - gov.uk/apply-blue-badge - does not charge any application fee – just the £10 charge of the badge itself.
Unfortunately, the copycat website currently appears as the top result on an online search for blue badge applications.  The council is asking for this advert to be removed.
The council's transport spokesman Cllr Jonathan Cook said: "We'd like to warn all potential blue badge applicants that they absolutely do not need to use the service of this company or website to apply for a blue badge.
"Please go through the official channels and do not put your personal data or your money at risk."

Apply via the official gov.uk site
If you have been affected, you can contact the Citizens Advice Consumer Service online or by phone on 03454 04050. They can advise on how to report the website and whether you can recoup your money.
You can find out more about the blue badge scheme, who is eligible and how to apply on the council website. This also has a link to the correct application site.
If you need any help applying for a blue badge, contact the Concessionary Travel Team on 020 8871 8871, who will be happy to help.
Blue badge holders have also recently been warned to beware of conmen in car parks telling them there is a new council policy that means they must register their vehicle at a parking machine. This is completely false.