Documentary tells the Men's Shed story
Published: Wednesday, January 23, 2019
A documentary about the Battersea's Men's Shed is now complete, telling the full story of the group's four-year boat building project.
A local community documentary filmmaker has been tracking the project, which saw members of the group plan and build the boat. The video was unveiled at a launch at the Battersea Arts Centre last week.
Battersea Men's Shed promotes positive mental health and reduces social isolation amongst people over 55 living in Wandsworth. Members work together on projects such as woodworking or furniture restoration at a specially-converted workshop at Dimson Lodge, Battersea Church Road.
The video includes interviews with members about how the group helps them, and with managers at the Wandsworth Council housing department's Community Development Team about why they started the project. The team is part of the sheltered housing department but works with communities from all over the borough engaging with elderly and isolated people and helping them socialise.
The documentary tracks the creation of the boat from its starting point right up until it set on the Thames at Putney last August. Another Community Development Team project - Roehampton over 50s choir An A-Choired Taste -  sang at both the boat launch and at last week's video launch.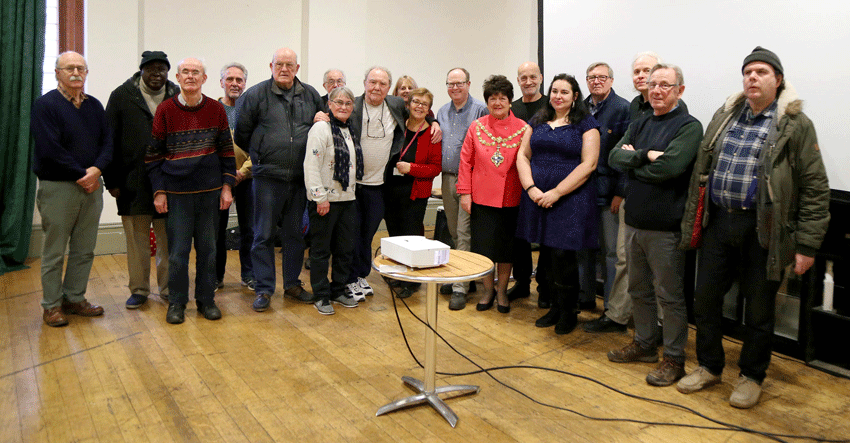 Men's Shed members at the video launch with the Deputy Mayor Cllr Jane Cooper, members of the Community Development Team and film maker Sandra Munoz-Alvarez
Housing spokesman Cllr Kim Caddy said: "The Community Development Team do some great work helping people get out and socialise, and Men's Shed has proved to be a really popular and successful project. The video is a fascinating look at Men's Shed and what its members have achieved by working together."
New members are always welcome at Men's Shed. It is mostly aimed at men, but women are also welcome to join. The project is run by the members so is not suitable for people needing care or special assistance.  However, people can attend with their carer if the carer remain on site to help.
Anyone interested in finding out more about Battersea Men's Shed or any of the other projects run by the Community Development Team can contact Elaine Curley on Ecurley@wandsworth.gov.uk