Ground broken on council housing development
Published: Thursday, January 31, 2019
Work has started on the £7m Stag House housing development in Roehampton - part of the council's pledge to build a thousand new council homes.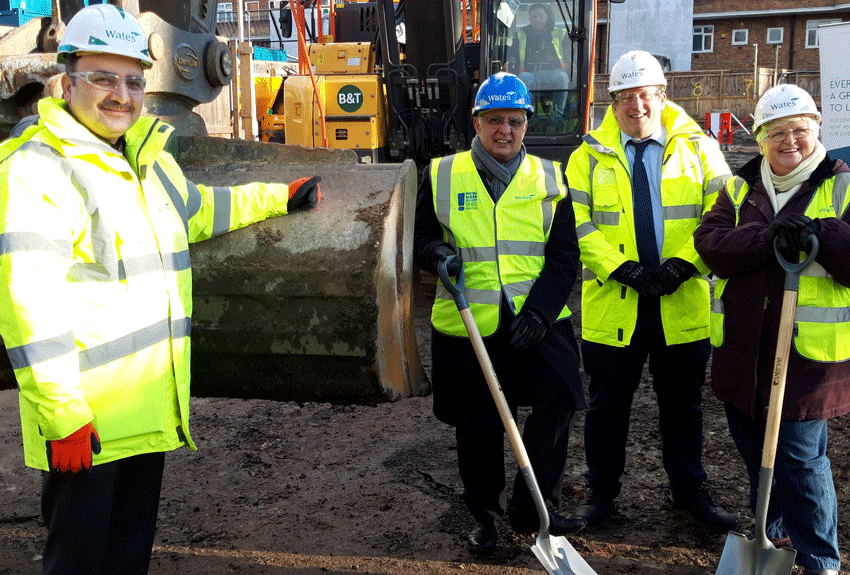 L-r, Site manager Reza Shahin with Cllr Govindia, Paul Nicholls and Shirley Price
Leader of the council Cllr Ravi Govindia joined housing committee chairman Cllr Jane Cooper, Managing Director of developers Wates Residential Paul Nicholls and representatives from Wates' construction team at the groundbreaking ceremony on Wednesday. 
Wates Residential was selected by the council last year following a competitive tender process and has been undertaking preparatory works on the site since August 2018. The ceremony marked the beginning of the site's main construction phase, with completion of the scheme due in Spring 2020.
The scheme is set to deliver 21 new homes on the Putney Vale Estate. The Stag House site was previously occupied by the vacant Stag House Community Youth Centre, which was replaced as the estate's dedicated community facility by the refurbished Newlands Hall in 2011. The development will include ten self-contained homes for people with physical and learning disabilities, including accommodation for an on-site support officer. The remaining 11 homes will be made available for residents who wish to downsize, which will free up their homes for other households in need of social rent housing.
All homes will meet the latest design and homes for life standards and will be highly energy efficient and meet the latest safety standards.
The scheme promises to not only deliver crucial housing, but also wider benefits for local people. Wates Residential and Wandsworth Council have made a joint pledge to provide employment and training opportunities for local residents, including on-site apprenticeships, work experience placements and structured training programmes. 
Speaking at the event, Cllr Govindia said: "This is a demonstration of our commitment to build new homes which meet the diverse needs of our residents. Good quality housing is fundamental in supporting the wellbeing of our residents and we're delighted to be partnering with Wates Residential on this scheme. I am also proud that this scheme is the first council-built supported housing scheme for our more vulnerable residents which will give those with learning and physical disabilities the opportunity to live safely in a scheme built to the highest standards.
"May I also thank the local residents' association, chaired by Shirley Price, and Cllr Jane Cooper for identifying this development opportunity on the estate and their positive contributions and understanding as this development has been taken forward."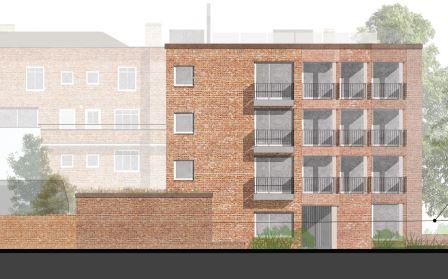 Architect's impression of the development
The new Stag House development is part of the council's supported housing programme which has seen five developments providing 43 homes built in the borough since 2009.The aim is to enable independent living in high quality, wheelchair-accessible accommodation within Wandsworth, instead of having to place residents in residential care which can be outside of the borough.
Paul Nicholls, Managing Director of Wates Residential, said: "Today's ground breaking event marks an exciting milestone in our delivery of new affordable homes for Wandsworth's residents. It follows months of collaboration with the council, members of the community and other local stakeholders to really understand their vision for the area and how we can realise this, both through the design and construction of these homes and looking at ways we can create wider local economic and social value. We look forward to strengthening these relationships as we continue to progress on site."