Consultation now underway on plans to introduce five 'School Streets'
Published: Friday, January 10, 2020
Five primary schools in Wandsworth could soon benefit from a pilot scheme that would drastically reduce traffic driving past their gates at drop-off and pick-up times.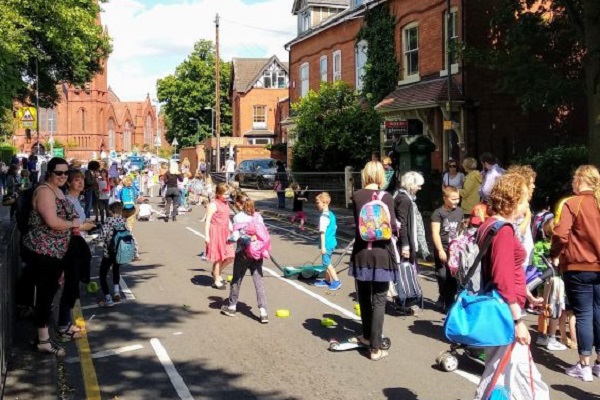 The council is keen to pilot a "School Streets" initiative at five local primaries, as part of its efforts to encourage safer and healthier travel to and from school, while also helping to boost air quality levels.
The initiative would see the roads containing school entrances closed to vehicle traffic when pupils arrive in the mornings and leave in the afternoons.
Now a public consultation is getting underway into proposals to introduce School Street pilot schemes at Penwortham, Hillbrook, Alderbrook, Earlsfield and Furzedown primaries.
Residents and businesses who live and work on a School Street would be able to register for an exemption, which would also apply to drivers with Blue Badges. The scheme would not operate in the school holidays or at weekends.
Drivers of non-exempt vehicles who entered a school street during its hours of operation would be issued with a penalty charge notice, based on photographic evidence, while retractable temporary bollards could also be used in some locations to prevent vehicles access. However, vehicles already parked in a School Street before the hours of operation came into effect would be able to leave without being penalised or impeded.
The council's schools and education spokesman Cllr Will Sweet said: "We hope parents and local residents support this pilot scheme as we believe it will create a much safer and healthier environment for children on their journeys to and from these five schools."
And Wandsworth's cabinet member for transport Cllr Paul Ellis added: "Reducing the impact of vehicle traffic and encouraging parents and children to walk or cycle to school are key priorities for the council.
"If parents and local residents in any affected streets agree to these trials, there could be a really beneficial impact on air quality standards around these schools. As well as an absence of passing traffic there would be a total reduction in vehicle idling outside school gates, which would be a major benefit to the children.

"What's important is listening to what local people and parents tell us and if the scheme proceeds, making sure we get the logistics right."
Each school will have its own separate consultation and there will be drop in sessions at each one where parents and local residents can find out more about the proposals.
The online consultation for each individual scheme and the drop-in advice session times are as follows:
The consultation ends on Friday, February 7. For more information, please visit the council's website.