Free Christmas tree recycling continues - but please don't dump them on the street
Published: Friday, January 10, 2020
In the first week of its annual Christmas tree recycling programme the council has collected almost ninety tonnes of trees.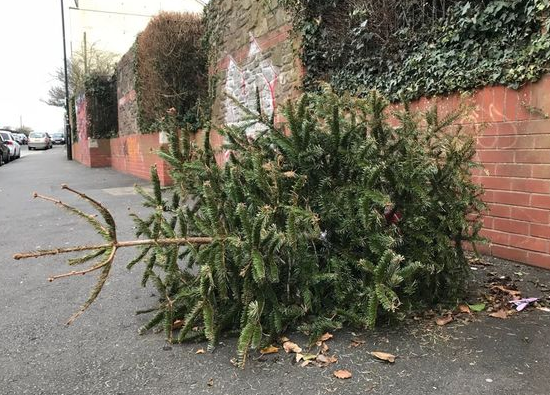 The free service sees real trees (not artificial ones) collected from people's homes before being shredded and turned into compost.
The council will be continuing its free collection service until Friday, January 17. They are normally picked up on the same day as people's scheduled refuse and recycling collections – but this role is performed by different teams in different lorries.
The aim is to provide a same day service - but this is not always possible to achieve as the collection crews often need to be diverted to clear pavements and street corners blocked by dumped trees.
The council is urging people with front gardens to keep their trees in their gardens until they can be collected.
If people do not have a front garden, then they should leave their trees out on the day their refuse and recycling is normally collected, or as late as possible the night before.
Residents who live in blocks of flats with communal waste facilities should leave their trees near their refuse bin store, making sure they don't block access.
The council's environment spokesman Cllr Steffi Sutters is urging residents to be patient – and refrain from dumping their trees on the street.
She said: "We offer a free service that operates over a fortnight, during which time we will collect every unwanted tree in the borough.
"This is a major task, which involves the collection of between 90,000 and 100,000 trees, so it always takes time and does require people to be a little patient.
"The job is made much more difficult and takes that much longer to complete if we have to divert our crews away from dealing with those in front gardens to removing ones that are blocking pavements.
"People who throw their trees out and obstruct pavements cause enormous problems for residents who are disabled or need to use wheelchairs, those who are blind or partially sighted and also parents with young children in buggies or pushchairs.
"Our message is simple. Please take full advantage of our free recycling service and let us collect your Christmas tree, binbags and recycling sacks from front gardens."