Multi-million pound refurbishment project for Wandsworth Bridge
Published: Wednesday, January 15, 2020
Major refurbishment work to Wandsworth Bridge will get underway in the next few weeks.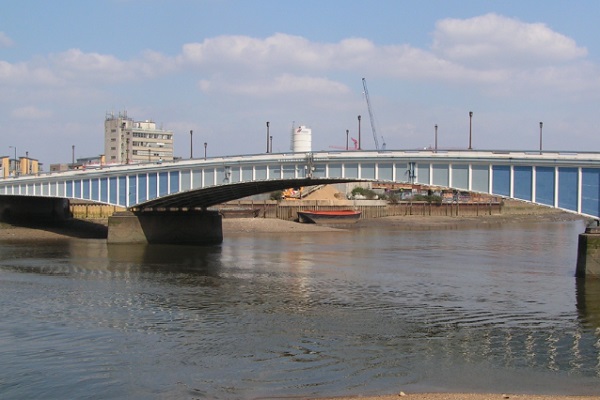 The works are scheduled to begin in March and last for around ten months as part of a refurbishment scheme costing in the region of £6m.

But to ensure traffic is kept moving, all carriageway lanes will be kept open whenever possible so that vehicles, buses and bikes can cross the river in both directions with as little disruption as possible.

And even during the most intensive stages of the project, when there do need to be carriageway restrictions, at least two of the bridge's four lanes will be kept open at all times so that both northbound and southbound traffic can continue to use the bridge, which will also remain open at all times to pedestrians.

The works programme includes a series of detailed structural repairs, carriageway resurfacing, waterproofing and corrosion protection. The bridge will also be repainted to significantly improve its appearance and protect its steel structure.

Eco-friendly low energy LED floodlights will be installed underneath its arches so they can be lit at night – making it more of a landmark feature of the river in a similar scheme to the one recently carried out upstream at Putney Bridge – and a common feature on many other Thames crossings.

Transport spokesman Cllr Paul Ellis said: "This is a major refurbishment scheme to ensure this important Thames bridge remains in full working order and open to the travelling public for many years to come.

"We take our responsibilities for maintaining our parts of London's vital transport infrastructure very seriously indeed which is why we have been planning the refurbishment for some time and why we set aside the funds to pay for it in June 2018.

"We will be completing structural repairs, resurfacing, uplighting and corrosion protection, plus repainting of the steel structure. It will ensure the bridge is in excellent condition long into the future."

Around 40,000 vehicles cross the bridge every day. This number has increased since Hammersmith Bridge was suddenly closed without warning in April of last year.

Funding for the project is coming from the strategic community infrastructure levy (SCIL) which is money levied on property developers in the borough to help pay for important infrastructure projects. The allocation of £6m was approved by councillors on the Finance and Corporate Resources overview and scrutiny committee in June last year

The first river crossing here was built in 1873 but demolished in 1937 and reopened in its current guise in 1940. According to some reports it was originally painted in light shades of blue as camouflage against Luftwaffe air raids.