Wandsworth shortlisted for two champion of the arts awards
Published: Tuesday, January 14, 2020
Wandsworth has been hailed as a champion of the arts with shortlisted nominations for two national awards.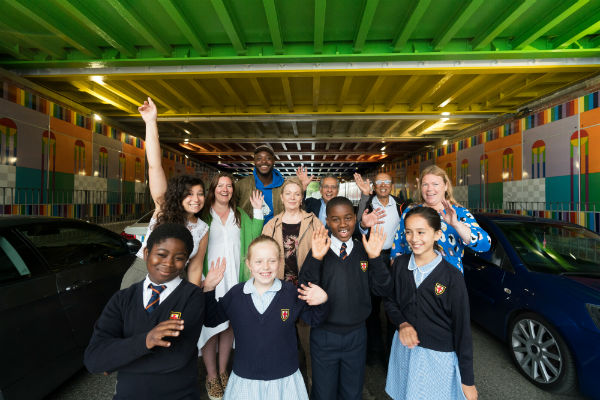 The Hearts for the Arts Awards 2020 shortlist has been announced with Wandsworth being shortlisted twice by a panel of key arts industry experts and practitioners.
The National Campaign for the Arts awards shortlisted Nine Elms' Happy Street Festival and Thessaly Road Bridge for the category of Best Arts Project - Community Cohesion.
Also shortlisted was Wandsworth Council's cabinet member for Community Services and Open Spaces, Cllr Steffi Sutters, for her work promoting the arts in the category Best Arts Champion - Councillor.
The annual awards celebrate the unsung heroes of Local Authorities who are championing the arts, often within a climate of severe financial challenges.
'Flying a flag for the arts'
Cllr Steffi Sutters, Wandsworth Council spokesperson for Community Services and Open Spaces said: "We are delighted to have been shortlisted for the work we're doing in Wandsworth to bring arts and cultural activities into the heart of our communities and make them accessible to residents of all ages.

"It was particularly rewarding to see the pleasure and excitement on on the faces of our young people during the Happy Streets project in Nine Elms when we listened to their views and transformed the local railway underpass using colour and light, and then celebrated it with a family festival which brought the community together.

"I'm determined to keep flying a flag for the arts which contribute so much to our quality of life and well-being here in Wandsworth."
The Happy Streets festival in July 2019 marked the unveiling of the re-designed Thessaly Road rail underpass in Nine Elms, which was transformed by visual artist Yinka Ilori in a commission by Wandsworth Council in partnership with London Festival of Architecture.
Cultural hub
Part of a package of work to improve the public realm around Thessaly Road in Nine Elms, the bridge and festival project was developed through engagement with local residents and nearby St George's primary school to ensure the local community can help shape their neighbourhood as it continues to undergo major change.
The Nine Elms area of Wandsworth is fast emerging as a cultural hub with recent events including Art Night and Light Up Nine Elms attracting thousands of visitors and residents. Cultural institutions including Matt's Gallery and World Heart Beat are also making the area their home.
Find out more about the Thessaly Road bridge redesign with Yinka Ilori
'Keep up the incredible work!'
Discussing Councillor Sutters' nomination, the Hearts for the Arts Awards panel said: "Wandsworth Borough Council has hugely benefited from having Steffi Sutters as a councillor. In just a short space of time after taking over the culture portfolio in May 2018, she has transformed the council's approach to culture and moved the arts up the agenda to make positive changes in improving the lives of residents. Keep up the incredible work!"