Brewing is back in the heart of the Brighter Borough
Published: Tuesday, July 9, 2019
Wandsworth town centre's 500-year-old association with beer brewing is set to live on with the announcement today (Tuesday) that London's oldest independent brewer Sambrook's will be moving to Greenland's Ram Quarter development.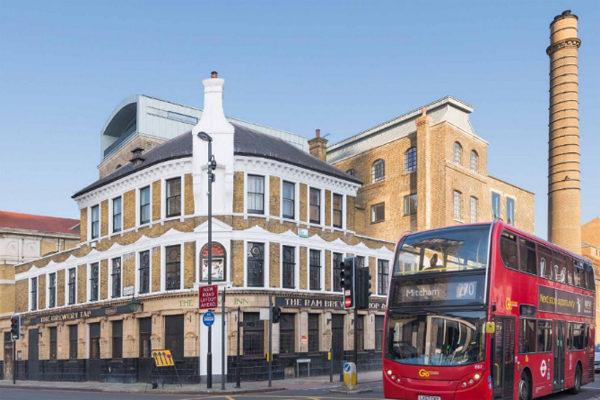 The Ram Quarter, which stands on the site of the former Young's Brewery, will provide a new home for Sambrook's, which is relocating from its current premises in Battersea.
Beer has been brewed on the Ram Quarter site since at least 1533 and continued there until 2006 when Young's moved its brewing operation out of London altogether.
Sambrook's is to take a 20-year lease on a new 11,000 square foot headquarters, which will be housed within a newly restored Grade-II listed former brewery building at the development.
Sambrook's will open a tap room set around the development's central square with outdoor seating, serving food and its own hand-crafted brews, as well as a bottle shop selling beers from around the world.
The company expects to produce more than one million pints of beer a year at its new home. It also plans to take over a heritage centre delivered by Greenland at the development, using it to present the history of brewing in London.
The news has been welcomed by council leader Ravi Govindia who said "Wandsworth is famous for many things and chief among these is its unrivalled history and tradition of beer brewing.
"I am delighted that it is Sambrook's who will be continuing this 500-year-old tradition at the Ram brewery site. They are a highly successful Battersea based company with a great local following who will be able to grow and expand their operations at their new bigger home. They are a local success story and I wish them well in their new venture.
"I am delighted too at this good news for the Ram Quarter and its developer Greenland. They are playing a key role in the regeneration of Wandsworth town centre and the arrival of Sambrook's will raise their profile and give people yet another great reason to visit the Ram Quarter."
Other landmark regeneration schemes in the town centre include the Wandsworth Business Village, and The Filaments in Buckhold Road, Lyon House in Wandsworth High Street and the ongoing joint venture between the council and South Thames College on linked sites in the high Street and Garratt Lane.
This involves the replacement of under-used office blocks with attractive and modern new buildings providing new homes, including many affordable units, retail space, improved educational facilities, a new public square and a brand-new library.
At the same time, Transport for London is also drawing up fresh proposals to redesign the Wandsworth one-way system which will remove through traffic from the high street and create better space for cyclists and pedestrians.
Cllr Govindia added: "These town centre schemes represent one of the biggest regeneration projects in London with well over £1bn of investment flowing through the area. Hundreds of new jobs and homes are being created here alongside major improvements to the local environment."