Community comes together for Pride reception
Published: Friday, July 5, 2019
The town hall hosted Wandsworth's first ever Pride reception last night to celebrate Pride in London.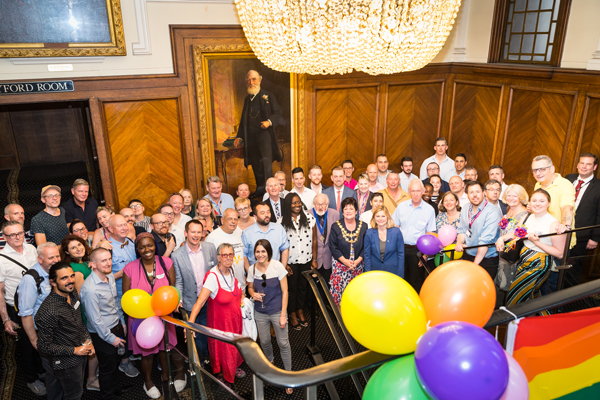 The reception, hosted by the Mayor of Wandsworth Cllr Jane Cooper, and organised in partnership with the Wandsworth LGBTQ+ Forum, was only the second to be held in London, and was a chance to bring together and thank the many people from across Wandsworth's diverse community who have worked together to continue to fight for LGBT equality.
It was also an opportunity to honour the 50th anniversary of the Stonewall Riots, a landmark event which gave birth to the LGBTQ+ movement.
For the second year running Wandsworth marked Pride in London by flying the rainbow flag at the town hall, and the council has pledged to continue working with the LGBTQ+ Forum and other groups to ensure equality remains at the heart of its work in the borough.
Cllr Cooper said "It is tremendous to see how far we have come in the last 50 years and to recognise the strong partnership here between the LGBT+ Forum and other civic organisations in Wandsworth.
"Of course we recognise there will always be more work to do to promote acceptance, especially in those places around the world less fortunate than our own borough, but tonight was an opportunity to show the council's commitment to LGBT equality"
Chair of Wandsworth LGBTQ+ Forum David Robson said "It really was a wonderful occasion to thank those people in our borough who have worked so tirelessly to lead the fight for LGBT (for too long) without any praise.
"I don't think we come together enough but it was so beautiful to see so many here tonight in Pride and unity. I hope it's the start of a new tradition here in Wandsworth."