Council funds for community schemes
Published: Monday, July 1, 2019
Projects that help communities get together and engage and inspire young people are among those sharing the Wandsworth Grant Fund's 11th round of funding.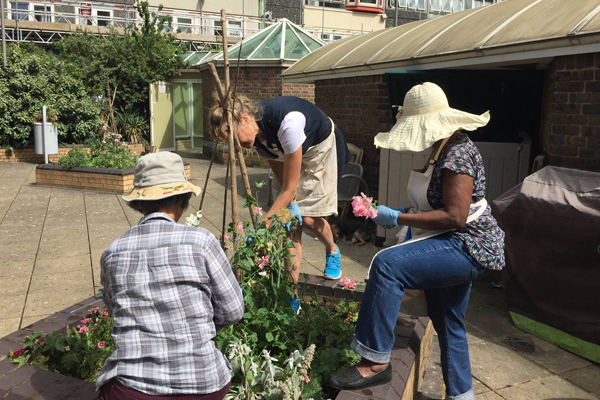 In total £319,000 has been earmarked by the council in the 2019/20 financial year to give out in various waves of the Wandsworth Grant Fund.  From this £20k was allocated to fund the 2018 Wandsworth Arts Fringe and £10k for other arts and culture schemes.
See the committee agenda and full list of applicants
Projects receiving funding include:
AFC Wimbledon Foundation will use their grant to engage with young people on the Hazelhurst Estate in Tooting. Free sports sessions will be held in the holidays and in the early evenings on the estate.
The Battersea Befriending Network will run a new project strengthening the mental health expertise and support provided to the network of volunteers who befriend people in Wandsworth who otherwise would be isolated. 
Clothe Me – Thank You gives away free vouchers which can be redeemed at some high street charity shops
The Doddington and Rollo Roof Garden will use their grant on a summer gardening, health and social programme for local people.
Fairbeats works with young refugees, asylum seekers and new migrant communities, helping them express themselves through music. They will use their grant to run a young music leaders project so that older children can become mentors to others.
A grant will enable The Friends of Coronation Garden in Southfields to run events and get more local people involved.
Parallel Youth Enterprise will run a Wandsworth summer camp for young people at Burntwood School. Around 150 children will be able to take place in workshops, sports and trips out of London.
Providence House will run the Urban Arts Project. Performing arts activities for children and young people will include summer events, a weeklong urban arts festival and a final community showcase event.
Shaftesbury Park Primary School will build an outdoor learning centre for its nursery to house term-time and out-of-term activities and family learning.
The Wandsworth Grant Fund supports a wide range of not-for-profit activities in the following categories:
Arts and Culture
Environment and Attractive Neighbourhoods
Children and Young People
Citizenship and Civic Engagement
Raising Aspirations and Potential
Health and Well being
Evaluation and assessment is done by specialist council offers and councillors scrutinise the process to ensure value for money and that money is going where it will most benefit borough residents.
Grants committee chairman Cllr Louise Calland said:  "In this round of grants we have chosen projects that bring communities together and support the borough's young people. Since the Wandsworth Grant Fund started we have helped dozens of local groups and supported some really successful and innovative schemes. I'm really excited to see how  this latest round of projects develop."
Application deadlines for the next two rounds are August 12 and  November 25. There will be a series of Meet the Funder events where you can find out more about the application process on the following dates:
July 9, 10am-12.30pm, Roehampton Base, Danebury Avenue
July 18, 2pm-4pm, Balham Library Hall, Ramsden Road
July 25, 5.30pm-7pm, Caius House, Holman Road, Battersea
For more information: