Design Award for Balham Town Centre
Published: Thursday, July 11, 2019
The transformation of Balham Town Centre has won a 'Pineapple' Award sponsored by the Design Council.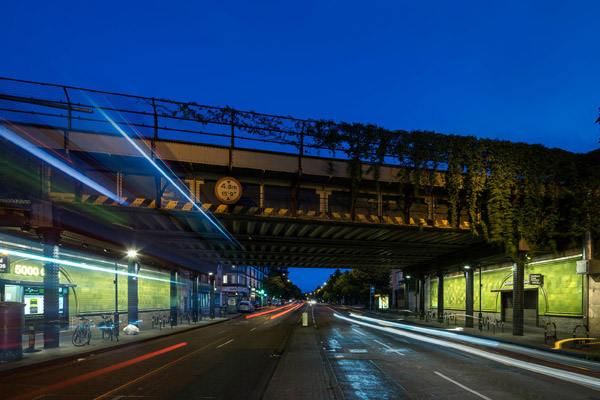 The Pineapples celebrate the creation of urban spaces where people want to live, work and play. Balham Town Centre won the completed place award.
The work included improvements to the public space at Bedford Hill Place and to Hildreth Street,
Hildreth Street was resurfaced, given better lighting and cleared of street clutter to make space for cafes, restaurants and market stalls and to allow it to host events like the Balham Food Festival.
At Bedford Hill Place a supermarket forecourt was turned a stylish public space with handcrafted green tiles and a kiosk for use during events. A large blank wall, known as the 'ugly wall' that dominated the view down the high street was decorated with a bold mural by artist Tod Hanson recalling Balham's Edwardian and Art Deco past.
The Balham High Road Railway Bridge now has better lighting and was re-clad in an attractive green tiling which is a traditional material for stations along the Northern Line.
The work was funded by the Mayor of London's Outer London Fund, plus more than half a million pounds from Wandsworth Council and was a collaboration between the Mayor, the council and the Balham Partnership. The scheme was managed by the council's economic development office and designed by Metropolitan Workshop.
Leader of Wandsworth Council Cllr Ravi Govindia said: "I am so pleased that the hard work of everyone with faith in and fondness for Balham has paid off. We're delighted with the way the town centre has turned out and hope that the sense of place and coherent look and feel the scheme has created will be the bedrock of ongoing improvements in the town.
"Balham is a young, vibrant place but has retained its community atmosphere and strong identity. Smartening up the town centre has made it an even more attractive place to live, work, shop and go out."