Enjoy a Love Parks picnic this weekend
Published: Friday, July 5, 2019
The next event in the council's summer-long Love Parks celebration is a picnic in Coronation Gardens, Southfield tomorrow (Saturday July 6).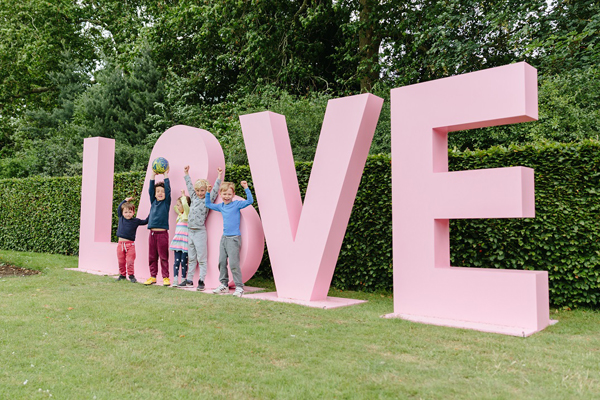 Join the Friends of Coronation Gardens to enjoy the sun and celebrate this beautiful green space. You can just turn up between noon and 3pm with your picnic.
There will be music from Southfields Academy and World Heartbeat Music Academy, who will bring instruments for children to play with. Other children's entertainment will be provided by the 8th Wandsworth Scouts, and the Mayor of Wandsworth will also be there.
The Friends group was set up in April, and it aims to help restore some of the park's Edwardian features such as its heritage drinking fountain. Find out more at www.focoronationgardens.co.uk.
Vice Chair of the Friends group, Susannah Perry-Greene said: "Enjoy the sun and meet the Friends in our Edwardian Gardens."
Anyone taking a picnic to the event, or to any of the borough's parks this weekend, is urged not to leave rubbish behind. Tips from Keep Britain Tidy include:
Use reusable plates, cups and cutlery and pack your picnic in a reusable bag or basket instead of a plastic carrier bag.
Make your food at home and pack it into reusable containers or wrap it in tea towels - they can also double as napkins.
Freeze water in your reusable water bottle and use it to keep your food cool. Once it melts you'll have chilled water to drink.
Bring a bin bag with you and take your rubbish home to dispose of it, recycling what you can.
Park users are also reminded that barbecues are not allowed due to the damage they cause to the grass.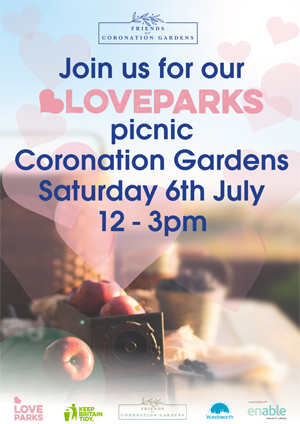 The council's five-month celebration of Wandsworth's great parks under the #LoveParksWandsworth banner will include events until the end of September to encourage people to get out and enjoy their green spaces.
Highlights so far have included a virtual reality Easter egg hunt, things to do every weekend in June as part of the Summer in Battersea Park programme  and a live screening in the park of the women's World Cup attended by around 2,500 people.
"Wandsworth is one of the greenest of London boroughs with parks, open spaces and private gardens covering more than 40 per cent of the borough," said Cllr Steffi Sutters, cabinet member for community services and open spaces. "Love Parks aims to encourage people to enjoy their favourite park, or discover new ones and appreciate exactly why parks matter so much.
"We're proud to be working with local people like the Friends of Coronation Gardens to preserve and protect our parks and encourage biodiversity. Coronation Gardens is one of the borough's smallest parks but is a real gem. Take along a picnic, enjoy the park and meet some neighbours."
• Send your pictures on Twitter and Instagram at @LoveParksWandsworth and @Wandbc and by using the hashtag #LoveParksWandsworth