Families have three exciting designs to choose for new-look Garratt Park playground
Published: Tuesday, July 30, 2019
Children and families living in Earlsfield still have nearly three weeks left to choose which improvements they would like to see to playground equipment at a popular local neighbourhood green space.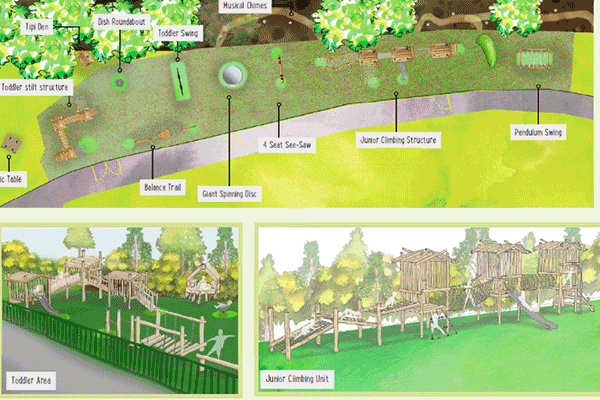 People who enjoy visiting Garratt Park are being asked to look at three options for upgrades to the play facilities and say which one they prefer.
The choices are a big improvement on what is currently offered and are designed to provide exciting and challenging play equipment for children aged between two and 14.
The designs have been drawn up following an earlier initial round of local public consultation and include large climbing towers, scramble nets, rope bridges, pendulum swings, rolling logs and a giant disc roundabout.
The council's parks and environment spokesman Cllr Steffi Sutters said: "These designs are so good it will be a tough choice for families to decide which one they like best.
"Whatever the final outcome of the consultation I'm quite sure that parents and children in the area will be delighted when the new equipment is unveiled. All the choices offer really exciting and challenging play equipment for them to enjoy.
"Garratt Park is an important and popular green oasis in this part of Earlsfield and while there are already some good facilities there, we think there is certainly room for improvement."
The consultation remains open until August 18. To view the designs and take part in the consultation online please visit https://haveyoursay.citizenspace.com/wandsworthecs/garratt-park-19/.
People who would prefer a paper copy can email consult@wandsworth.gov.uk or call (020) 3959 0060.
Funding for these improvements will come from the Wandsworth Local Fund (WLF), which comprises money the council has levied on developers to help pay for community and neighbourhood infrastructure improvements across the borough.
Over the past three years more than £7.2m in WLF money has been spent on local initiatives including schemes to support safer communities, employment opportunities for young people, better pavements and improved parks and playgrounds.
For more information about the fund visit http://www.wandsworth.gov.uk/WLF.