Landmark project to light up the gateway to Putney
Published: Thursday, July 11, 2019
Work is gathering pace on an exciting landmark project to light up Putney Bridge at night.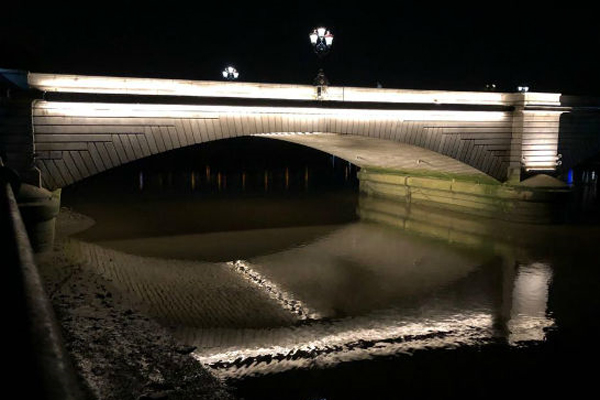 The first set of low energy eco-friendly LED floodlights have now been installed to illuminate the arches at the historic Grade II Listed bridge.
Work will now proceed to fit lights under all the remaining arches so that the gateway to Putney can be seen in all its glory during the hours of darkness.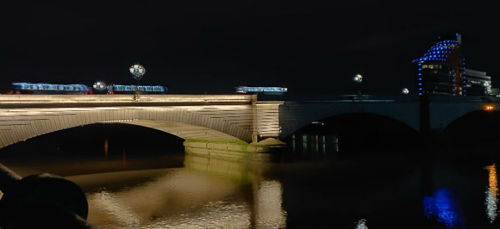 Cabinet member for transport Paul Ellis said: "This is great news for Putney and the meeting of a manifesto commitment to light up this important gateway to our borough.
"Many residents and business owners in Putney have asked us to carry out this task so that the historic and attractive bridge over the Thames can be transformed at night time.
"It has not been without its technical challenges but I am delighted these have been overcome and now that the first installation of lights been shown to work so well, we can now crack on and fit the rest.
"Lighting the bridge in this way is bound to generate interest in Putney and will be a huge boost to Putney's night time economy, especially to businesses based on the riverside."
The project has been funded using cash levied from housing and property developers in the area who are required to pay contributions towards neighbourhood infrastructure improvement schemes. Others set to benefit from this fund are rail passengers in East Putney who could soon see their journey times reduced as plans advance to open a second entrance to Putney Station via a footbridge onto the platforms at Oxford Road.
Other recent improvements at Putney Bridge saw new pavements and a new road surface laid as part of repairs protect it against water penetration. The repairs also saw its attractive ornate Victorian cast-iron lamp columns fully refurbished and restored and fitted with modern LED lights to make them shine brighter.
As soon as the work at Putney is complete, attention will turn to Wandsworth Bridge where there are similar plans for floodlights.