Planning permission granted for bigger and better Northcote Library
Published: Friday, July 19, 2019
Residents living in and around Battersea's Northcote Road will soon be able to visit a bigger and better library in the heart of their neighbourhood after councillors on the planning committee approved designs for the new building.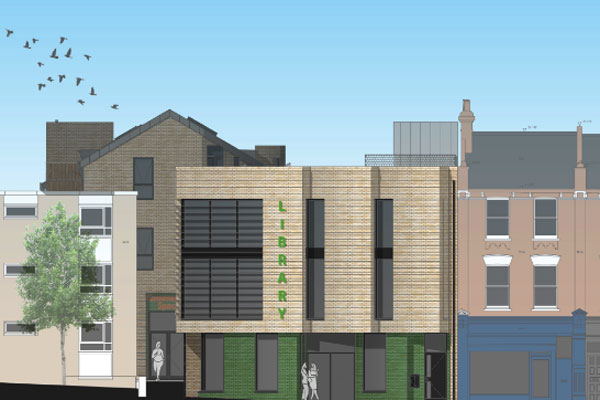 The planning consent will see the existing 1960s library building replaced with a larger and better equipped public library and community centre offering a wider range of services.
The new library will be housed in a modern three storey building set back from Northcote Road that will offer a dedicated and improved children's section complete with buggy parking space, enlarged study accommodation, self-serve kiosks for book loans, upgraded computer and digital learning areas, an events space and restroom facilities.
The existing library building, pictured here fronting Northcote Road, is now 50 years old and was built at a time when library services were much more limited in their scope and whose design is outdated by modern standards.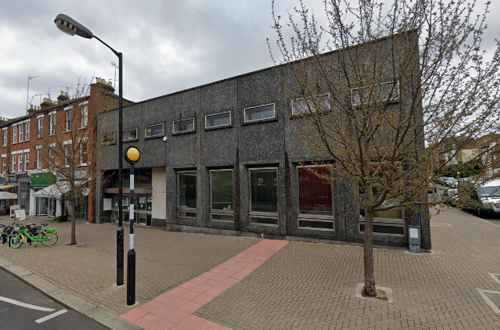 It currently offers restricted and inflexible space for shelving, no space for computers on the ground floor, poor ventilation and lacks natural light. It also has inadequate disabled access, no space for prams or buggies and unsatisfactory toilet and baby changing facilities.
Once built the new library will provide 848 square metres of usable floor space compared with the existing 728 sqm.
Alongside the new library will be a new community centre for use by local groups, including a nursery. Both will be built on land currently occupied by eight council-owned garages adjoining Staplehurst Court and the Chatham Hall community space.
Chatham Hall was built in the 1950s and is showing signs of its age. It will be replaced with a modernised equivalent that will provide better kitchen and toilet facilities, while also benefiting from its own dedicated outdoor courtyard amenity space for educational, leisure and recreational use.
The construction costs for the new library and community centre will be met by building residential units and retail space on the existing library site, along with some flats on the Chatham Hall and garages site.
Incorporating housing into the scheme would mean that the new upgraded library and community centre will be provided at little or no cost to local council tax payers.
On the current library site in Northcote Road, nine flats will be constructed on the upper floors with two retails units at ground level. A further seven will be provided above the community centre on the Chatham Hall site. People purchasing or renting the new homes will not be eligible for parking permits, ensuring no added pressure on local parking provision.
During the construction phase the current library will remain fully open to the public until the new one is ready to open its doors. The local Alphabet Nursery will also relocate there temporarily while the new community centre is being built.   
The council's community services spokesman Cllr Steffi Sutters said: "This is excellent news for people of all ages living in this part of Battersea.

"They will be getting a bigger and better local library with an improved children's section, alongside a new and improved community centre, able to offer much better accommodation to the local groups that use it.

"The existing library was built in 1969 and is by today's standards rather inefficient in its layout and use of space.

"We've looked into whether or not it could be refurbished to bring it up to modern standards but this would be prohibitively expensive and would still leave a small, cramped building with sub-standard amenities.

"The community space at Chatham Hall is also contained within an ageing building that would soon need a significant amount spent refurbishing it. Our scheme will see it completely revamped, with a much better laid out and more flexible space along with upgraded kitchen facilities, new toilets and its own dedicated outdoor space.

"This is a sensible and cost-effective use of the council's property portfolio. It means providing much needed homes for Londoners plus a modern new library and community centre at minimal cost to local tax payers.
"At a time when many councils in London and elsewhere are closing down libraries and curtailing services to save money we are looking to expand and improve our provision to give our residents a bigger and better Northcote library fit for the 21st century."