Planting a future for our National Park City
Published: Tuesday, July 16, 2019
To celebrate London becoming a National Park City Wandsworth Council is giving away 1,000 reusable and recyclable plant pots filled with flower or herb seeds.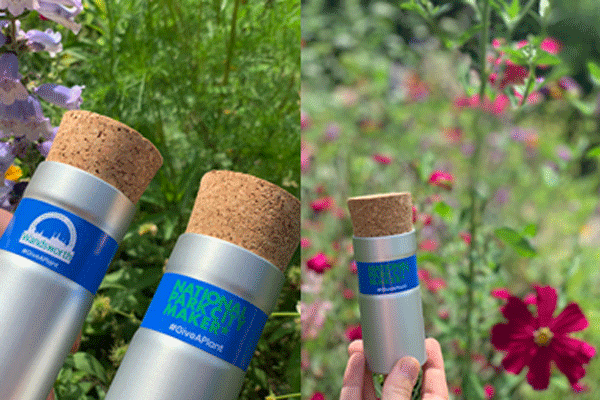 The plan is for you to grow the plant and then give it to a neighbour, colleague, chosen charity or group and help make London greener.
It's all part of the #GiveAPlant campaign organised by the National Park City campaign which has a festival coming up from July 20 to July 28 that commemorates our amazing outdoors.
Last year it was announced that the capital would become the world's first National Park City. It will mean the Mayor of London, Sadiq Khan, and public bodies will work towards London becoming more green in the long-term and protect its network of parks and green spaces.
"I think the Give a Plant campaign is a brilliant idea," said resident Victoria Jones. "You can learn a lot from growing and tending plants, and then giving something you've invested in to someone else is a really good deed that helps make society that little bit kinder. This will also make London a greener place in which to live – so everyone's a winner!"
Parks and greenery are vital to our communities and besides giving away the eco-friendly pots the council is marking the week-long festival with a number of walks and talks around the borough.
The free guided walks will take place between a number of local parks. On the walk you will learn about what is on offer at each park and hear about plans the council has for improvements along with lots of key biodiversity and wildlife facts. The first takes place on July 22 at 10.30am – meet outside the Battersea Seventh Day Adventist Church in Prince of Wales Drive close to Battersea Park.
The council's support of the National Park City campaign is just part of its six-month long #LoveParksWandsworth campaign which celebrates Wandsworth's wonderful green spaces. From the splendour of Battersea Park to the quirky charm of the Fred Wells Gardens, Wandsworth boasts acres of greenery with parks, open spaces and private gardens covering 40 per cent of the borough.
"Our beautiful parks are free to use and are a welcome escape from the hustle and bustle of city life," said Cllr Steffi Sutters, the council's cabinet member for community services and open spaces. "We're encouraging every resident to take part in our Love Parks campaign and enjoy their local park or perhaps discover ones you never knew existed. There are plenty of hidden gems out there and we have events taking place in them throughout the summer."
To find out more visit: enablelc.org/loveparks
If you would like to be a part of #GiveAPlant just drop us a line and let us know how many you would like at: loveparks@enablelc.org While your plant grows we would love you to share its progress on social media. You can do this in a number of ways through Instagram: @LoveParksWandsworth @Wandsworth_Council @Londonnationalparkcity ; on Twitter: @LoveParksWands @wandbc @LondonNPC ; and Facebook @LoveParksWandsworth @LondonNationalParkCity @Wandsworth Council. There are also the hashtags #GiveAPlant #NationalParkCity #LoveParksWandsworth #WandsworthCouncil
To discover more about the National Park City Festival visit: nationalparkcity.london/festival