Rail bridge artwork comes to life in Nine Elms street
Published: Thursday, July 18, 2019
The transformation of the Thessaly Road railway bridge by visual artist Yinka Ilori has been unveiled by Wandsworth Council after hundreds of people celebrated the new design at a 'Happy Streets' community festival.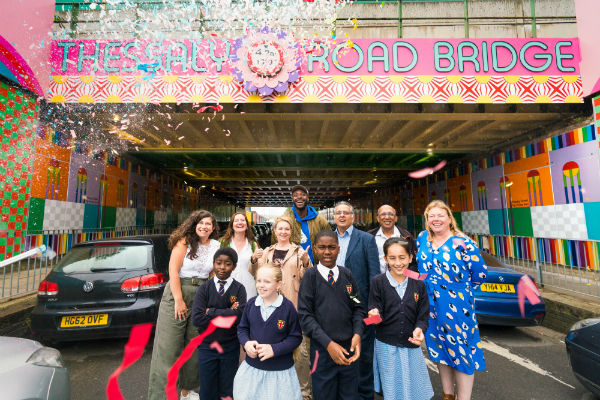 The 'Happy Street' project is the outcome of a design competition in partnership with London Festival of Architecture as part of a package of work to improve the public realm around Thessaly Road in Nine Elms. The redesign is a central part of Wandsworth Council's work to transform the underpass beneath the railway bridge into a bright and welcoming environment for existing communities, pedestrians and cyclists, on a main route between Wandsworth Road and Battersea Park Road.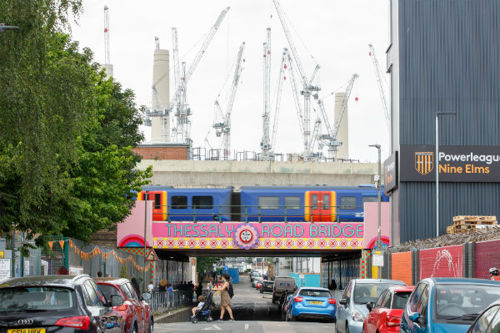 Local residents and visitors gave the bridge a thumbs up on Saturday 13 July as they followed a marching band and giant puppet underneath the colourful artwork. Over 1,800 people joined in with free activities, workshops, live outdoor performances and music throughout the happiness-themed festival at venues on and around Thessaly Road.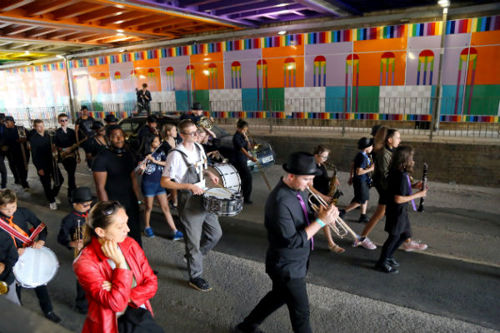 Yinka Ilori's Happy Street is the artist's first public realm commission - an installation that floods the underpass with colour and light. The walls of the underpass and the bridge to either side are clad with 56 richly patterned vitreous enamel panels using 16 different colours, forming a low-cost, durable and cheerful surface. At night the underpass is illuminated, enhancing the structure as a new local landmark, and giving users a greater sense of safety as well as pleasure as they pass through.
In creating the design, Yinka Ilori has sought to encourage users of the underpass to become more aware of the environment around them – for instance in the bright colours that reference the spectacular Thames sunsets nearby, as well as using inspiration from colour theory to improve feelings of wellbeing and happiness. Together with the team at Wandsworth Council, Yinka Ilori has worked closely during the development of the project with local residents and nearby St George's C of E Primary School, helping to empower people to engage with and shape their local neighbourhood as it continues to undergo major new development and change.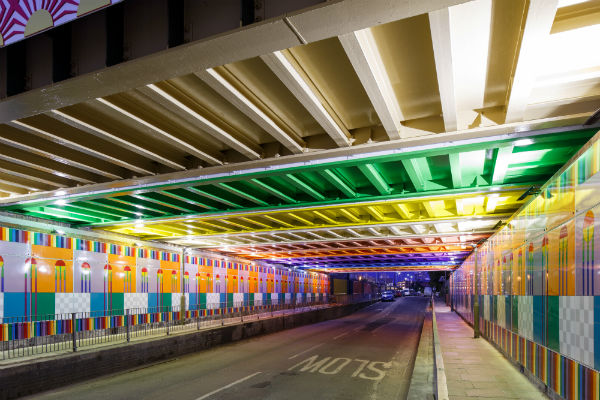 Cllr Ravi Govindia, Leader of Wandsworth Council said: "I am delighted that this Nine Elms rail bridge has been so successfully transformed into a colourful gateway – together with Yinka Ilori we listened to community concerns and worked closely with local residents and St George's school to ensure we delivered a design that they would be happy living next to.
"This was a unique project to bring art and transport infrastructure together and has been a huge achievement to get finished just one year after the design competition, thanks to close working with our local partners, Network Rail and London Festival of Architecture.
"I hope that what we see here gives fresh inspiration to re-imagine London's built environment and consider incorporating art into other structures around us."
Yinka Ilori said: "I am really honoured and blessed to have my first public realm project installed in Nine Elms, Battersea! The most important part of the project was talking to the community, especially the young children and seeing the smiles on their faces when they walk under the bridge has been magical. I just hope this bridge continues to bring happiness to everyone who walks under Happy Street and inspires the next generation of young artists because they are the future."
Tamsie Thomson, director of the London Festival of Architecture, said: "We're so proud to have been part of the Happy Street project: we set out to champion London's amazing design talent, create something that would make a difference to people's lives and improve London's public realm. So thanks to an amazing partnership with Yinka Ilori and Wandsworth Council it's mission accomplished, and a fantastic legacy for the London Festival of Architecture 2019 season."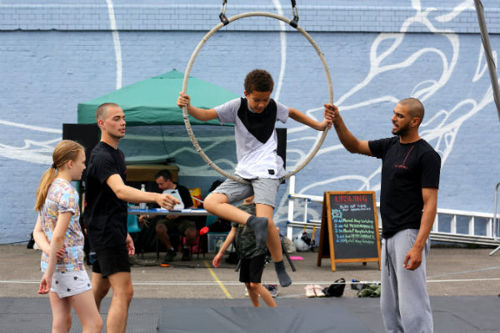 Circus and dance
Entertainment at the Happy Streets festival included circus performances and hands-on aerial workshops from Upswing, BAC Beatbox Academy workshops led to a grand finale on the Errant Stage, and world record-holding hula hoopers Marawa's Majorettes showed off dazzling moves in St George's Primary School.
Local community music organisation World Heart Beat engaged children with musical instrument discovery sessions and the 51st State Band took a musical parade around the neighbourhood.
Also touring the festival site was Gnomus – The Caretaker of the Earth, a giant puppet by Puppets with Guts, enthralling his followers with facts about climate change and the environment.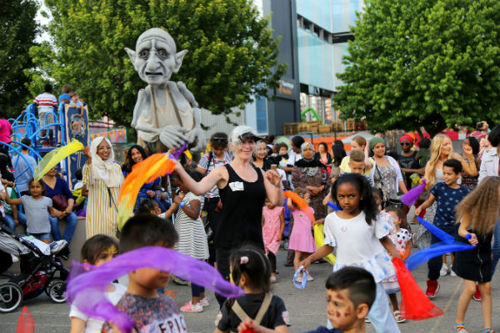 Families and people of all ages got involved with learning a 'Happy Dance' with local choreographer Lorraine Roberts, before all joining in a communal performance at the end of the afternoon.
Using imagination and lots of colourful pen and tape, children built cardboard towers and tunnels with WildCity at the Ascalon Street ball court.
Hundreds of people got crafty with the Nine Elms Arts Ministry as they aimed to boost wellbeing alongside sessions including hanging basket making and 'happiness conversations' in the Happiness Garden and Allotment. Meanwhile, Urban Canopy and Edible Avenue ran a tea trail around the area with useful pointers about the health properties of plants and herbs, and A Kitchen's True Mission transformed the Yvonne Carr Centre into a pop-up offshoot of Vauxhall's Bonnington Café.
Back at the ROSE community clubroom, foodies got busy making pizzas before assembling colourful piñatas or trying out virtual reality headsets showing clips of theatre performances in the LIVR room.
About Yinka Ilori
Yinka Ilori is a London-based artist whose work spans the divisions between art and design, blending European and African traditions with contemporary design while sparking a conversation about social norms and consumer culture. The Colour Palace at Dulwich Picture Gallery - a collaboration between Yinka and Pricegore – has been a highlight of the London Festival of Architecture 2019 season and has met with huge popular and critical acclaim.
Find out more about London Festival of Architecture