School children give drivers road safety advice
Published: Thursday, July 18, 2019
Local school children have been helping the council and police educate drivers on the dangers of speeding.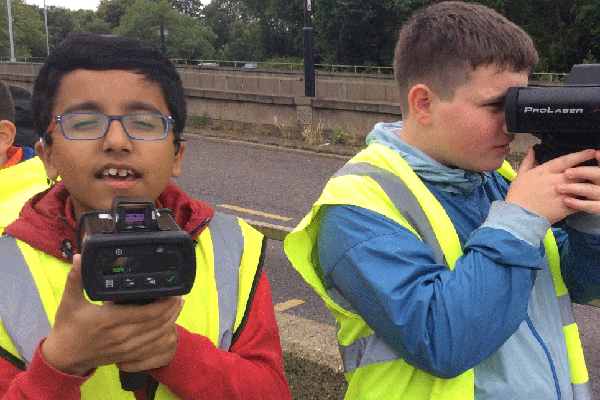 The Junior Roadwatch scheme has been running since 2016, and sees Year 5 and 6 pupils using speed guns to encourage drivers to slow down outside schools. Now the scheme has evolved so that the children can also speak to drivers about the importance of road safety.
Up to ten children are taken to a location near the school chosen by the police. Any drivers found to be speeding or ignoring traffic rules are checked out by the police using the Police National Computer, and the police decide if the motorist is suitable to talk to the children.
If they are, the driver has a choice of enforcement action or having an educational road safety talk from either a police officer or council officer. If they chose the latter they will then be handed over to the children who in pairs will ask the driver questions about the offence and whether the experience has changed his or her view about road safety.
The first Junior Roadwatch event in this new format was held recently with pupils at Ronald Ross School. Two drivers were stopped for ignoring a banned right turn and six for speeding.  The children worked with police officers PS Liam Mallet, PC John DATA, PC Andy Smith and PC Zack Taylor
Wandsworth's cabinet member for transport Cllr Paul Ellis said: "We know that people are worried about speeding, especially outside schools, so Junior Roadwatch is a good way to catch people going too fast and make them think twice about their behaviour by meeting the young people affected."
Cabinet member for education and children's services, Cllr Will Sweet said: "We work closely with our schools on road safety, such as drawing up plans to encourage sustainable travel and preventing vehicle idling and unsafe parking outside school gates.
"Junior Roadwatch gives children the opportunity to really feel they're making a difference to road safety near their school and gets the message through to drivers that it's children who suffer when they speed."
Community Roadwatch and Junior Community Roadwatch are part of a range of measures taken by the council to keep the roads safe including pedestrian and scooter training for children and motorbike and cycle training. Find our more
If your school or youth group would like more information on how to take part, email roadsafetyofficer@wandsworth.gov.uk.