Tooting joins Clean Air Village project
Published: Thursday, July 25, 2019
Tooting has been chosen to be one of 13 areas in London to take part in the second phase of the Clean Air Villages project.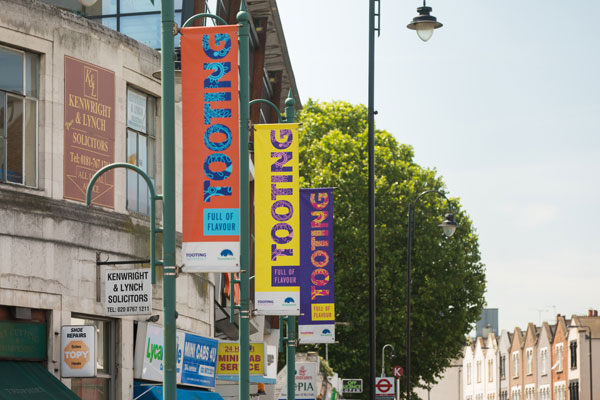 The project is run by the Cross River Partnership (CRP) and aims to improve local air quality by reducing emissions from business deliveries and servicing. Tooting business owners are being urged to step forward and take part
Tooting's inclusion is a boost to the council's recently announced ambitions to become the greenest inner-London borough with the goal of being carbon-neutral by 2030 and a zero-emission council by 2050. Read more.
Wandsworth's air pollution team went along to the launch event earlier this month to discuss local air quality priorities and how the Clean Air Villages project contributes to meeting them.
The scheme is funded by the Department of the Environment's Air Quality Grant, with match-funding from the private sector and seven central London boroughs including Wandsworth. Tooting has been chosen as a 'village', and the CRP will work with the council over a year to reduce congestion and pollution by collaborating with local businesses.
In London around half of air pollution stems from road transport and of that one third from freight vehicles. Clean Air Villages 2 aims to enable and support businesses, schools and other organisations to reduce emissions from deliveries of goods and services through measures such as sharing suppliers with their neighbours and using suppliers who deliver using ultra-low emission vehicles, like the ones in the Cross River Partnership's Ultra-Low Emission Suppliers Directory created in the first phase of the project.
The project will work with businesses to identify problems in Wandsworth and come up with potential shared solutions
Wandsworth's cabinet member for air quality Cllr Paul Ellis said: "We're delighted to be taking part in the Clean Air Villages project and hope local businesses will join us in thinking up innovative and effective measures to reduce emissions now and going forward. We hope the project will have a long-lasting positive impact on the quality of the air in Tooting."
If you are a business owner in Tooting and would like to find out how to save time and money while improving air quality, contact Kate Fenton at katefenton@crossriverpartnership.org.
Other measures taken to improve the borough's air quality include working with contractors to reduce pollution from building, lobbying for cleaner buses, installing an extensive network of car charging points, working with schools to prevent vehicle idling and promote sustainable travel and recruiting volunteer Air Quality Champions – members of the community who help spread the word about what people can do to reduce air pollution.