Young historians explore the borough's past
Published: Monday, July 8, 2019
Projects on Battersea Power Station, the Daffodil King of Tooting and Dame Margaret Rutherford were all winners of the fifth annual Wandsworth/GLL Heritage Awards for Schools competition.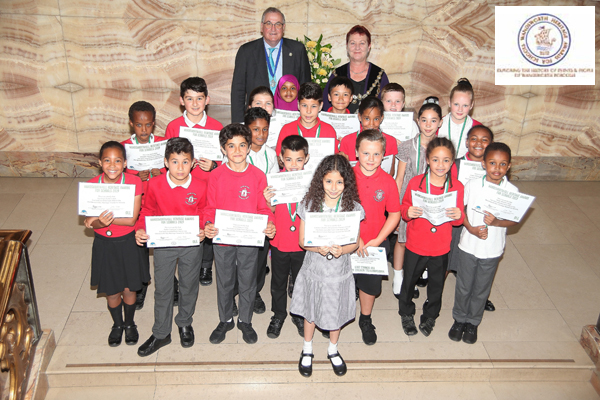 Pupils, parents, teachers and head teachers from each of the winning schools were invited to a town hall presentation last week, with prizes handed out by the Deputy Mayor of Wandsworth Cllr Sue McKinney.
First prize went to John Burns Primary School in Battersea. who looked at the history of nearby Battersea Power Station. The research team have won £750 for their school, plus medals each and a plaque.
Broadwater Primary School was highly commended for their research into Peter Barr, the 'Daffodil King'. The whole school worked on the project with the help of the Summerstown182 team. Peter Barr ran a nursery in the area in the 19th century and helped make the daffodil one of Britain's most popular flowers. Find out more.
Granard Primary School in Putney was commended for its school-wide Local History Week.
The individual winner, who won £750 for her school, plus £100 in vouchers for herself, was Sabrina Oliveira from Broadwater School for her project on the actress Dame Margaret Rutherford. Dame Margaret was born in Balham and the council has erected a green plaque in her honour. Find out more.
The chairman of the judges was Cllr Richard Field, who started the competition in 2014. Other judges were Ishbel Murray, assistant director of environment and community services at Wandsworth Council, Pamela Greenwood from the Wandsworth Historical Society, Emma Anthony, Wandsworth Libraries' archivist, Daniel Andrews, Libraries Partnership Manager at GLL, and Caroline Staples, primary teaching and learning consultant, Wandsworth Council. 
Cllr Field said: "This is the fifth year of the competition and we were delighted to receive so many fascinating and varied entries. Choosing the winners proved very difficult, as they were all excellent."
Cllr Steffi Sutters, cabinet member for community services said: "We hope that taking part has given students a sense of belonging to their local community. It's important that our young people, and all of us, understand the borough's past because that is what has shaped us into the strong and diverse community we are today."
The competition was sponsored by Greenwich Leisure Limited, the council's library and heritage service contractor. Emma Anthony from the Heritage Service gave advice to the students and helped run the competition.
Find out more about the borough's rich history at www.wandsworth.gov.uk/heritage