Art kits help children stay creative
Published: Friday, July 24, 2020
Another 1,750 kits to help children be creative at home were distributed at the start of July as part of a partnership between the council and Wandsworth's creative organisations.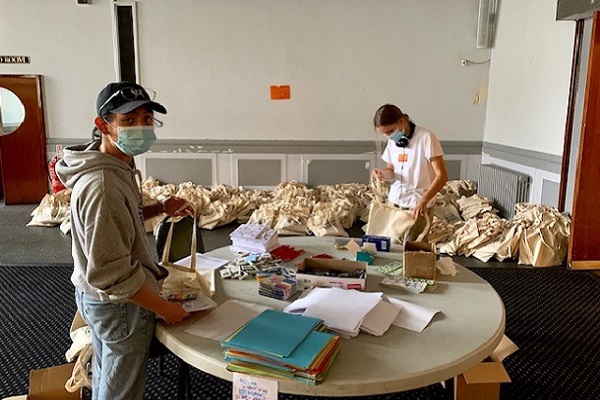 The art packs were distributed to primary schools in the last week of term to help young people play, create and make during the summer holidays. Last week's delivery is in addition to 750 kits distributed to school in June.
The project brings together Agora Arts Circle, Battersea Arts Centre, Love To Learn, Nine Elms Arts Ministry, Roehampton R.O.C.K.S, Royal College of Art, Creative Wandsworth, SenTalk, Tara Arts, 575 Wandsworth Road (National Trust) and Wandsworth Council as well as dedicated group of volunteers, enabling the partnership to pool existing funding and donated resources.
This round of donations has also seen support from A New Direction which is working with the council to support families in Roehampton, Battersea United Charities, the Wimbledon Foundation, Enable Leisure and Culture, moving company Britannia and printing and distribution company London Calling. The public have also contributed £17,500 through a Crowdfunder campaign set up by Battersea Arts Centre, which has played a key role in coordinating the project and fundraising for the creation of more kits.
Kits include basic craft materials, a booklet of 14 creative activities and a newsletter signposting families to other arts activities online. Additionally, for families who might not need the creative materials but who would benefit from the creative activities, the booklets are available both in print and online to download.
The kits include work by local artists, organisations and RCA graduates, including Ben Poultney at Draw my Town, Bounce Theatre, Corcutt Collective, Dan Castro 'Idle Hands' project, Ellie Blanche, Sarah Mattison, Ubuntu Museum and National Theatre's (Public Acts) Pack of Joy.
The council's culture spokesman Cllr Steffi Sutters said: "This is a brilliant scheme and I'd like to thank all the local councillors, organisations, arts groups and volunteers who have got involved and enabled us to provide kits to keep children busy over the holidays."