Closing Northcote Road to traffic will help local businesses
Published: Friday, July 10, 2020
Businesses in Northcote Road are to get a welcome weekend boost with a road closure designed to allow plenty of space for outside tables and chairs and safe distancing.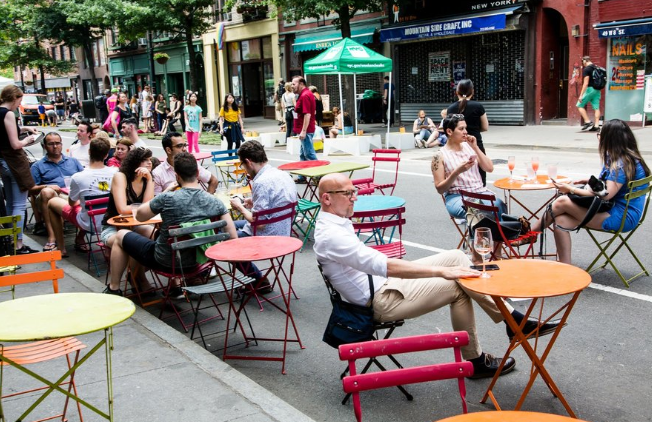 Starting tomorrow (July 11), Northcote Road will effectively become pedestrianised at weekends until further notice – with the empty road space being made available for businesses to keep their customers safe.
The road closure will also make this part of Battersea quieter and safer for pedestrians and cyclists.
The move mirrors a similar council initiative in Wandsworth's Old York Road whose businesses have also been given outside space following town hall appeals to Transport for London.
Consent from TfL at both locations was required because both contain bus routes that need to be diverted.
The change was prompted by a written plea from council leader Ravi Govindia to London's deputy mayor for transport Heidi Alexander. His letter asked her to support the council's efforts to support businesses in Old York Road and Northcote Road.
Cllr Govindia said: "I'm delighted we have been able to secure this additional outside space for business use in both Old York Road and Northcote Road.
"Enabling them to utilise outside space to operate safely could prove a crucial lifeline as they seek to overcome the economic challenges created by the pandemic.
"With many businesses facing an uncertain future it's part of the council's job to do what we can to support them. This is why we have handed out more than £54m in support grants to small businesses and why we are now fast-tracking the arrangements for street trading. This is a pragmatic solution that will offer these businesses an important helping hand."
To ensure that businesses across the borough can lawfully access outside space and set up tables and chairs for their customers, the council has agreed to simplify the process of applying for a street licence and waive the normal fees.
Businesses will be able to utilise outside space, subject to a short consultation period to ensure that the businesses behave responsibly and take steps to ensure their neighbours do not suffer undue noise disturbance and that passing pedestrians are not obstructed.