Council grants for community groups
Published: Monday, July 27, 2020
Council grants have been given to a wide range of voluntary organisations and charities helping local communities.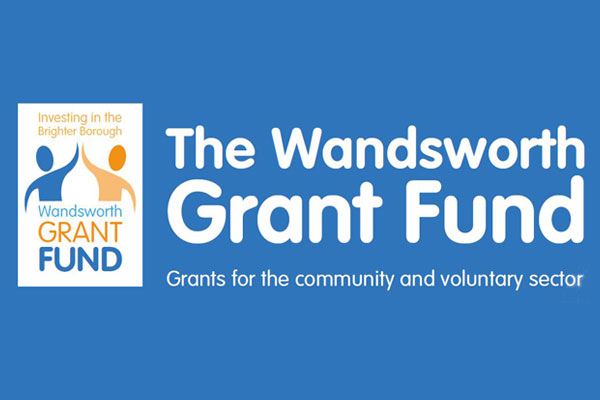 The Wandsworth Grant Fund provides funding for a range of projects that support the arts and the environment and that help young people and other residents stay healthy and reach their potential.  The Wandsworth Grants Fund now has an additional emphasis on projects that help the borough's Covid-19 recovery.
In addition to the latest round of awards the council has distributed an extra £100,000 through the Covid-19 Response Fund which was awarded to community projects tackling the local impact of the Corona crisis.  
In the latest round a total of £123,575 has been distributed, plus a £10,000 Cultural Capacity Grant to support an arts organisation.  The Grants Overview and Scrutiny Committee was also pleased to distribute a generous donation of £20,000 from the Wimbledon Foundation as part of the latest round of grants.  The projects are:
AFC Wimbledon Foundation: The Hazelhurst Active Womble Summer School offers 120 children aged 7-12 daily sports, arts, drama and educational activities plus a daily hot meal. 50 Young people aged 12 – 18 years will attend an early evening sports session on the Hazelhurst MUGA and grassed estate area and ten young people aged 14 - 18 will complete a volunteering work placements with the Foundation. The project is being run in conjunction with the Dons Local Action Group and three local Primary schools; Smallwood, Broadwater and Earlsfield
Age UK Wandsworth: Digital connection for the Elderly will enable 35 older residents to learn how to use iPads to socialise, access information and shop. Participants will receive an iPad with funded 4G data and ongoing support for one year.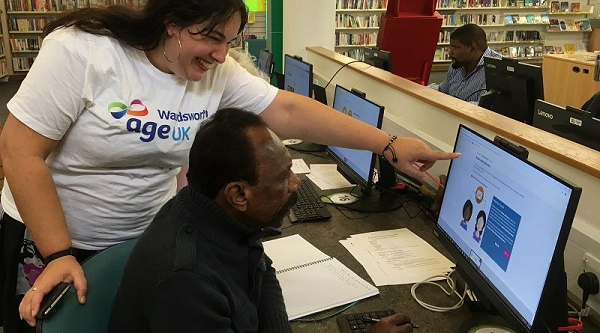 Another Age UK Wandsworth digital inclusion scheme, Digipals. 
Bach Club: The grant will help develop and present a new online series of six concerts of classical music.
Battersea Arts Centre: The BAC Health and Wellbeing Initiative focuses on delivering mental health benefits for members of the local community, particularly those negatively impacted by the Covid19 pandemic.
Black Heroes Foundation: Claudia Jones - The Continuation will be performed at four Wandsworth libraries with community outreach at Providence House Youth Project. The show will aim to provide tools and techniques that will help young people increase their emotional resilience and address serious issues such as, bullying, peer pressure, youth violence and sexual exploitation.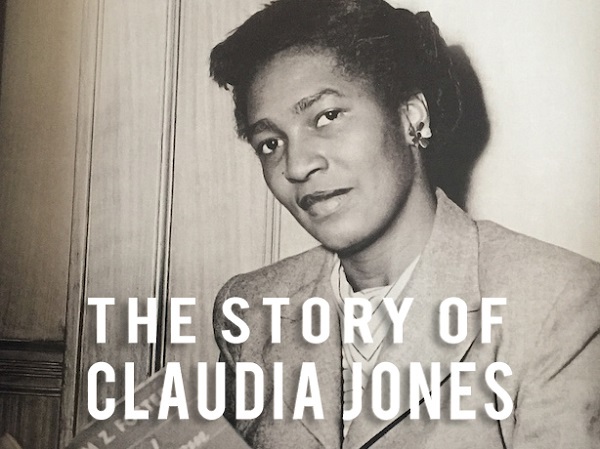 Bounce Theatre: Be Kind is a creative arts project for children aged 7-11 based in Earlsfield with connections into Tooting and Roehampton. Through a blend of drama and art, children will create an exhibition of 12 pieces of work celebrating peace, wellbeing and kindness in the community culminating in a digital art project. The project aims to work directly with 25 children adversely affected by Covid-19.
Building Heroes Education Foundation: Building Heroes recruits, reskills and redeploys military veterans, service leavers and immediate families for new careers in construction. They deliver free intensive construction skills programmes, welfare support and job coaching and guidance.
Community Drug and Alcohol Recovery Services: A seven day-a week food cooking and delivery initiative will deliver home-cooked meals to 280 people with  multiple and complex health problems such as drug and alcohol misuse, poor mental and physical health, unemployment and poverty, and challenging housing conditions.
Enable Leisure and Culture on behalf of the Friends of Wandsworth Common, Friends of Battersea Park and Friends of Furzedown Rec: Funding will be used towards the cost of notice boards on Wandsworth Common and Furzedown Rec to increase awareness of their work, encourage participation and to promote different ways for people to be involved.
Furzedown Community Network: The New graduate Artists Project aims to mitigate the negative impact of Covid-19 restrictions on employment and career development of 15-20 local young artists graduating in 2020 in the creative visual arts by promoting of their work via an exhibition, supporting online digital promotion, and the development of peer support and mentoring.  It will also offer other young people considering a career in art an opportunity to meet local young artists and a hardship fund will support new graduations with greatest need.
Generate Opportunities UK: The organisation in collaboration with Fair-Share will take on the administrative and delivery functions of Wandsworth Council's existing food provision service. The project will relocate the food distribution hub from the Civic Suite to a community-based location and redistribute via 14 community groups to people in  food poverty or those unable to shop safely for food as a result of the pandemic.
Junction Community Trust: The Clapham Junction Centre will run 6 Spear Programmes across the year, working with 40 young who are currently out of work, training or education.
Kambala Estates Residents Association: A survey will determine the level of need on Kambala Estate and new kitchen facilities will enable a food delivery service to be provided for vulnerable residents who live there.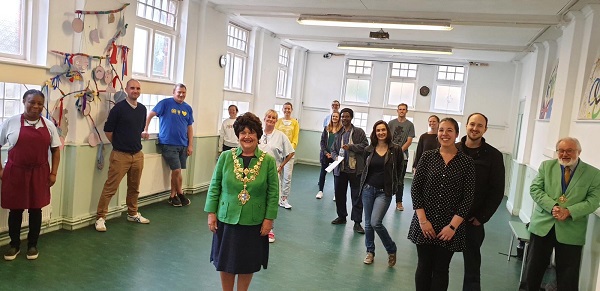 The Mayor of Wandsworth visited the Kambala Cares project, helping vulnerable people during the lockdown.
Katherine Low Settlement: The KLS Love To Learn COVID-19 Response Project will provide summer activities for young people from refugee backgrounds plus continued virtual activities and check-ins when schools return.
Share Community: Healthy Cooked Meals  will be delivered to 300 vulnerable Wandsworth residents with a focus on those with learning and physical disabilities, autism, mental health needs and other vulnerable groups. Partner organisation Generate will support with delivery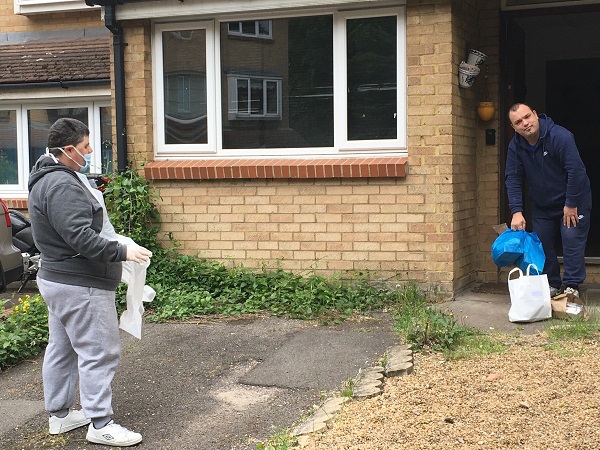 Share and Generate have been working together during the lockdown to support learning disabled people. 
Spencer Lynx: Spencer Lynx provides free weekend hockey sessions to local state primary children (Year 5, aged 9-10) that have not had the opportunity to play hockey, or much sport at all. Participating schools have been selected with particular focus on schools with higher percentages of high pupil premium, and BAME children.
Sprout Arts Furzedown: Lockdown Arts is an art exhibition at Sprout Arts in February 2021 comprising artwork spontaneously created by professional artists and the community within the Lockdown period. It will be curated to reflect the different types of experiences people had including how these made them feel. The show will also support artists who have suffered loss of income through the Lockdown period.
SW15 Music: The Roehampton-based community youth group offers young people the opportunity to play music and get involved in a band. The grant will enable it to reach more young people.
Tower Hamlets Youth Sports Foundation: Platform Cricket will replicate their Hub programme set up in other inner London boroughs in Battersea. The Hub Programme introduces children to cricket through workshops in primary schools and provides community cricket training in Battersea Park and at the Latchmere Leisure Centre.
World Heart Beat Music Academy: WE ARE ONE proposes a series of live streamed performances by musicians aged 15 – 24 who are supported to embark on a sustainable career in music and the creative industries. They will be joined by young people from Providence House.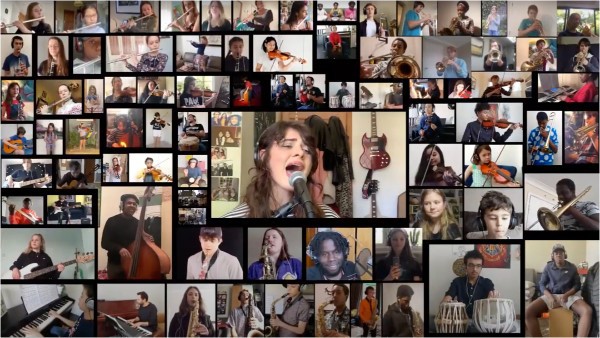 A World Heart Beat online performance during lockdown.
The Cultural capacity grant is a a single £10,000 annual grant to support small cultural organisations or artist collectives, who are based and work in the borough to develop its capacity and to help ensure their future sustainability.
The award has been given to the Agora Arts Circle to enable it to develop as a business, giving it the capacity to work with experts to create a robust business plan and fundraising strategy, as well as developing a long-term vision. The grant will enable it to continue to work with a range of community groups, bring the arts to a broader audience and support emerging artists.
Grants committee chairman Cllr Louise Calland said: "During the lockdown Wandsworth's voluntary sector were a crucial support to the communities they serve, and we believe they will also be crucial to help the borough recover. That's why we moved quickly to provide emergency grants in April, and why we have chosen these projects to receive funding now."
The deadline to apply to round 15 of the Wandsworth Grant Fund is August 17. Two webinars will be held on August 4 at 11am and August 6 at 3.30pm with information about the fund, what the priorities are for funding and how to make an application.
Booking is essential in order to receive the link.  Book here.
To find out more:
• Visit www.wandsworth.gov.uk/wgf
• Email wgf@wandsworth.gov.uk
• Follow @grantswandb on twitter