Council tells local businesses 'we will use all our powers to help'
Published: Wednesday, July 29, 2020
Wandsworth Council's new cabinet member for Economic Development, Skills and Employment has pledged to work with local businesses to understand what they need to help them towards recovery.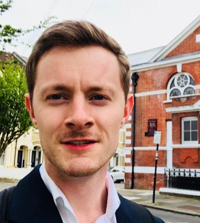 Councillor Aled Richards-Jones listened to the issues facing small businesses from across the borough as he joined the Wandsworth Chamber's weekly Coronavirus Business Forum.
Cllr Richards-Jones said: "It's been a very tough time for business and the council will use all the powers we have to help as we move into the recovery phase.
"The council will need to be very creative and work closely with businesses, business associations and groups to understand what we need to do.
"I'm very keen to hear from local businesses to understand your needs so that we can factor them into our 'Smart Growth' plan which sets out how the council will support the borough's recovery."
Wandsworth Council has now issued over £55m of grants to help businesses get through the impact of the coronavirus crisis.
Over 3,600 of Wandsworth's retailers and small businesses have benefited from payments ranging from £5,000 to £25,000 accessed through schemes including the Small Business Rate Relief grant, Retail, Hospitality & Leisure Discount Relief or discretionary business fund payments.
Welcoming Cllr Richards-Jones into his new role working with Wandsworth's businesses, Steve Pinto, CEO of Wandsworth Chamber said: "The new normal is now here to stay and we're all going to have to adapt. We are really looking forward to working with you as Wandsworth moves forward after these unprecedented challenges."
Wandsworth Council's help and guidance for businesses at www.wandsworth.gov.uk/businesshelp