Grants still available as council pays out £54.5m to local business
Published: Friday, July 10, 2020
Financial help is still available for some small businesses in Wandsworth as they adjust to welcoming customers back after lockdown.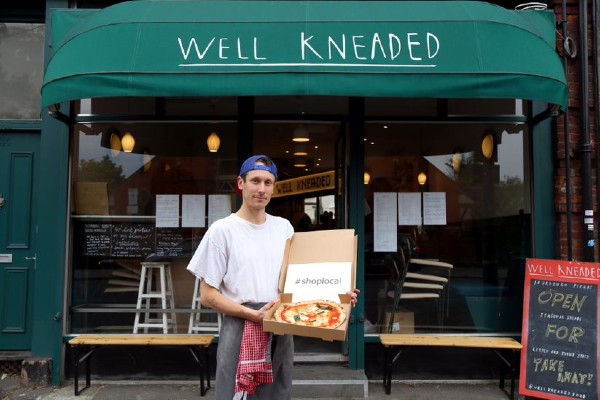 Wandsworth Council has now issued more than £54.5m of grants or funding to small businesses across the borough. Over 3,600 of Wandsworth's retailers and small businesses have benefited from payments ranging from £5,000 to £25,000 to help them get through the impact of the coronavirus crisis.
But although the council quickly contacted thousands of businesses who were eligible to claim a Small Business Rate Relief grant or Retail, Hospitality & Leisure Discount Relief grant, some are still yet to submit their claim.
Rates relief grants range from £10,000 for the smallest businesses to £25,000 for slightly larger businesses in the retail, leisure or hospitality sectors. Even if businesses have no 2020/21 rates to pay as their bill was fully covered by rates relief, they may still be entitled to a grant and it's not too late to claim.
Claim now for the Small Business Grant or the Retail, Hospitality & Leisure Grant 
'Eased financial pressure'
Well Kneaded Pizzeria in Earlsfield is one local business that benefited from government financial support as they adapted to lockdown and then worked hard to implement safety measures before re-opening to guests.
Laurence Callaghan, Co-founder of Well Kneaded Pizzeria, said: "As a small business the onset of lockdown looked pretty scary and could have been disastrous, but we had so many people tell us that they were keen to continue buying pizza and encouraging others to do the same.
"The measures to support small businesses from both the Government and the Council were an immediate help and eased much of the financial pressure that we faced in March and April as we adjusted to the situation. It was really nice to feel like our concerns were being taken care of in that process."
'Come forward'
Cllr Jonathan Cook said: "We recognise how important these grants are to businesses and we'll keep distributing payments until all eligible businesses have claimed. I know it's been an incredibly challenging time for so much of our local business community and encourage you to come forward if you qualify for assistance through the rates relief grant scheme.
"We've also been able to help 266 small and micro businesses with discretionary business fund payments and as the situation changes day by day we are carefully considering how we will use phase 2 of the scheme to target distribution of the remaining discretionary funds to businesses in need of help."
Further advice to businesses, including the latest advice and support to businesses on how to navigate other government support measures such as the furlough and self-employment support schemes, is available at www.wandsworth.gov.uk/businesshelp