Now bars and restaurants in Balham's Bedford Hill can go al-fresco
Published: Thursday, July 23, 2020
Following on from the successful pedestrianisations of Old York Road and Northcote Road – to aid social distancing, encourage walking and cycling and support local hospitality businesses – the council is to unveil a third such scheme in Balham's Bedford Hill.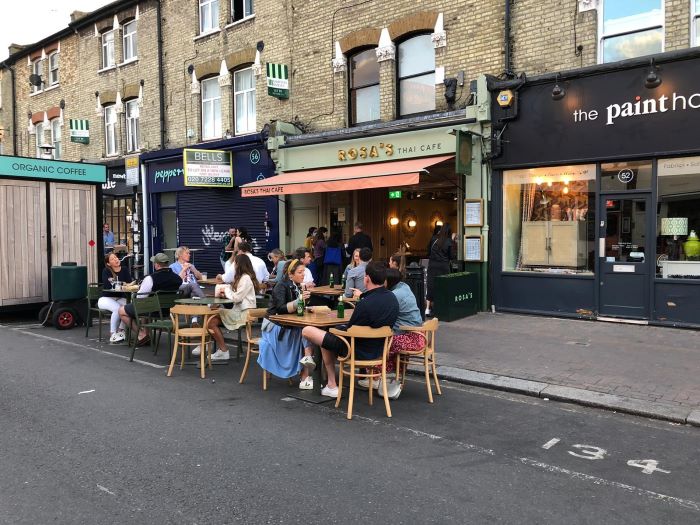 An existing temporary closure of Bedford Hill to vehicle traffic is to be extended to include the stretch between Balham High Road and Fernlea Road.
The change, which will come into effect on Saturday (July 25) will allow bars and restaurants to place tables and chairs on the highway and is designed to give businesses in this part of Bedford Hill additional outdoor space their customers can use to maintain safe distancing.
To facilitate this new pedestrianised area, Harberson Road, Shipka Road, Sistova Road and Rossiter Road will be closed off at their junctions with Bedford Hill - effectively making them cul-de-sacs. This will also provide benefits to residents in these quiet side streets by discouraging through traffic. The market traders of Hildreth Street will have continued access to their pitches via Shipka Road.
The extended closure is scheduled to remain in place until the end of August with the hope being that the new quieter and safer Bedford Hill encourages residents to shop locally and support these businesses over the summer.
The move follows similar changes in Old York Road in Wandsworth Town and Northcote Road in Battersea whose hospitality businesses have seen an upsurge in trade since being pedestrianised.
Transport spokesman Cllr John Locker said: "We've seen just how valuable and useful this kind of change can be in other parts of the borough and have therefore decided to introduce a similar business friendly measure in Bedford Hill.
"Removing the traffic from this part of Balham will make it quieter and safer for pedestrians and cyclists while offering a crucial lifeline to its businesses, who can use this extra outdoor space to bounce back from the economic downturn created by the pandemic."
During this closure period, the council is keen to hear the views of local people. Comments can be emailed to SocialDistancing@wandsworth.gov.uk using 'Bedford Hill' as the subject line.