Revised plans for Tooting Commons low traffic neighbourhood pilot scheme
Published: Friday, July 24, 2020
Residents in an area of Tooting Bec will soon be consulted on revised plans for a low traffic neighbourhood (LTN) in a bid to reduce the level of disruption they face from through traffic while making their streets quieter and safer.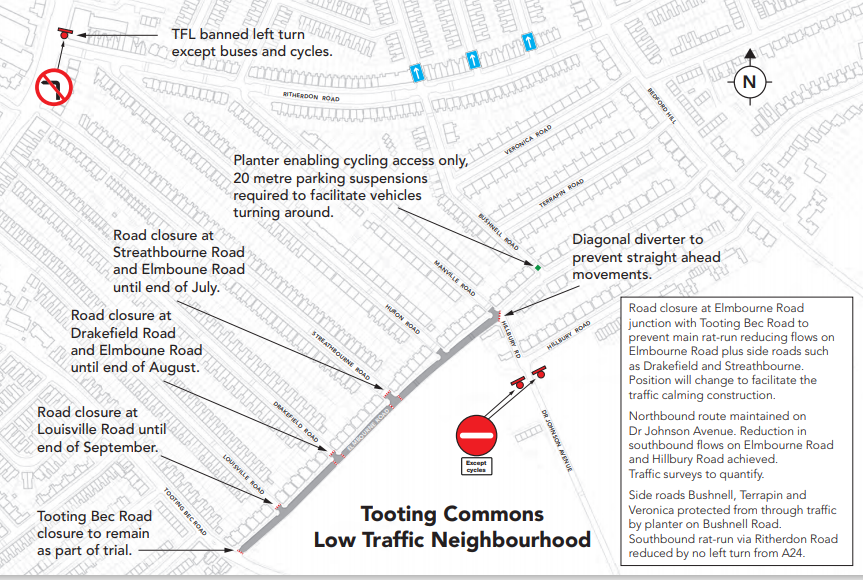 The council has drawn up new plans to discourage rat-run traffic from accessing streets in Elmbourne Road and the surrounding area.
By making this Tooting Commons neighbourhood quieter and safer the hope is that it may encourage residents to consider new forms of travel like cycling and walking. Funding has been provided by Transport for London (TfL) under its London Streetspace Plan which aims to persuade people to take up alternative forms of travel as the country emerges from lockdown.
The plans have been drawn up taking into account feedback from local people who were unhappy with an earlier set of proposals.
The new measures will be introduced on August 10 on a temporary trial basis to gauge their effectiveness. They include:
• No closure restrictions on Dr Johnson Avenue
• No southbound traffic allowed on Dr Johnson Avenue apart from bicycles
• The installation of a planter on Bushnell Road at the junction with Elmbourne Road – allowing continued access by bicycle but not vehicles.
• A closure on Elmbourne Road at the junction with Tooting Bec Road
• A diagonal diverter on Elmbourne Road at the junction with Manville Road to prevent vehicles accessing residential roads further east.
Transport spokesman Cllr John Locker said: "We have been exploring options to reduce the impact of traffic in this area around Tooting Commons for some time as we are conscious that it is heavily used as a cut through by many vehicles and very little of this is local traffic.
"We are conscious too that previous proposals have created some concerns in the area and so have gone back to the drawing board to come up with a scheme that hopefully irons out all the problems identified by local people.
"What we are saying now is that we are planning to move forward with a trial scheme to see if it achieves the right results for local residents. If it doesn't produce that positive outcome then we will withdraw it, but we think this revised scheme is a big improvement on what's been previously suggested."
The amended proposals will allow continued movement northbound along Dr Johnson Avenue to allow vehicles access towards Balham taking into account the ban on right turns at the junction of Tooting Bec Road and the A24.
Residents will know that the impact of that right turn ban means that drivers cannot turn off Tooting Bec Road (A214) to go north towards Balham on the A24. The council has lobbied TfL to change the Tooting Bec junction, but TfL has made it clear this is not possible because of space limitations along with concerns for safety and bus routes.
Consequently, the council has had to develop plans reflecting this ongoing turning restriction. Traffic flowing in the opposite direction (North to South) can turn from Balham High Road (A24) onto Tooting Bec Road (A214) and therefore easily divert from using Dr Johnson Avenue.
The revised proposals also take into account feedback from residents regarding traffic levels in Bushnell Road, Terrapin Road and Veronica Road. The "diagonal diverter" at the Elmbourne Road/Manville Road junction ensures traffic can't access these roads and is instead directed onto the more suitable B242 Bedford Hill.
The road closure at the junction of Elmbourne Road and Tooting Bec Road will prevent residential side streets between Louisville Road and Huron Road taking extra traffic as a result of impending changes by TfL to movements on the A24 Balham High Road.
Cllr Locker added: "The revised scheme has been designed to strike the right balance in allowing residents to go about their daily journeys while cutting excess traffic on residential streets and making them more attractive to pedestrians and cyclists. By carrying out a trial of these measures, we can assess their impact and listen carefully to the views of local people."
Once the scheme is underway people will be able to take part in the public consultation and provide feedback on these changes. To do so people should visit https://haveyoursay.citizenspace.com/wandsworthecs/elmbourne. The council's highways engineers will also be closely monitoring the scheme to evaluate its effectiveness and be in a position to make tweaks and changes if necessary.
People who wish to submit comments before the trial scheme commences can email SocialDistancing@wandsworth.gov.uk adding the word 'Elmbourne' to the subject line.
To help residents anticipate various local road changes, here is a summary of the various traffic schemes in the area and their expected date of implementation.
Date                            Scheme                                                           Authority
25/7/20  -  CS7 left turn restrictions from A24 at Ritherdon Road  -Transport for London
31/7/20  -  Streathbourne Road junction treatment complete  -  Wandsworth Council
3/8/20 -  Drakefield Road junction treatment commences  -   Wandsworth Council
10/8/20 -  Tooting Commons LTN goes live  -  Wandsworth Council
31/8/20 -  Bus diversion removed from Ritherdon Road -  Transport for London
31/8/20 -  Drakefield Road junction treatment complete -  Wandsworth Council
1/9/20 -   Bedford Hill closure ends  -  Wandsworth Council
3/9/20 - Louisville Road/Tooting Bec Road junction treatments - Wandsworth Council 
28/9/20  - Louisville Road/Tooting Bec Road works complete - Wandsworth Council
28/9/20- LTN closure remains at Tooting Bec Road junction - Wandsworth Council