Tooting residents can enjoy another green space with play equipment this summer
Published: Thursday, July 16, 2020
Residents in Tooting are being reminded they have another local green open space they can enjoy this summer.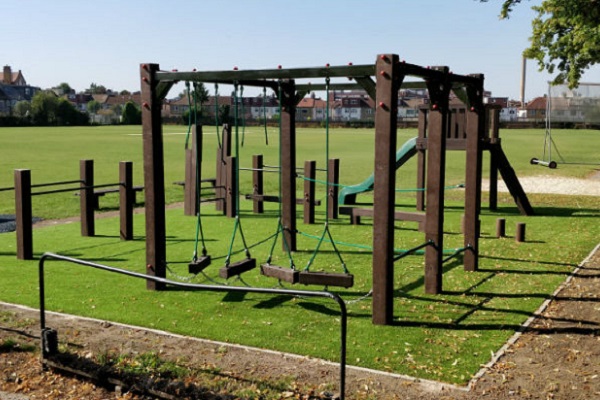 Fishponds Playing Fields have been partially opened up to the public in previous summers, but the council has decided to expand the scheme this summer so that local families can use and enjoy this green oasis every day.
Normally the playing fields, which are bordered by Fishponds Road, Hebdon Road and Broadwater Road, are only accessible when sports clubs have made a pitch booking.
However in order to make better use of this green amenity, the council has decided that it will be opened up for all to use between 8am and 6pm every day until September 6. These new opening arrangements will commence this coming Saturday (July 18).
Outside of these new opening hours, the gates to the playing fields will remain locked to prevent them being affected by anti-social behaviour. People are also being advised that dogs are not permitted on the playing fields at any time.
Parents in particular will be keen to bring their children there to enjoy the new play equipment, which was unveiled last autumn following a £38,000 investment in family-friendly facilities at Fishponds.
The play equipment, suitable for children aged between two and 11, uses recycled plastics and has a natural timber look. It includes a climbing tower with slide, a play boat and an activity trail with a 'wobble log' bridge, stepping stones, parallel bars and a balance beam.
It has been installed in a part of the playing fields that does not affect the existing sports pitches which remain available for use by local schools and sports clubs.
The council's environment spokesman Cllr Steffi Sutters said: "Opening this green space every day of the week will provide an important local amenity for people living nearby.
"We are very lucky to have so many parks, commons and open spaces in Wandsworth and it's great they are used and enjoyed by so many local people. We've been able to add to that number by opening up these playing fields between now and September.
"I hope parents and children in the area will make full use of the exciting new children's play equipment there and I'm especially thrilled it has been manufactured from recycled plastic. I'm sure it will prove popular with local people especially now that the playing fields are open for use for much longer periods throughout the week than has historically been the been the case."
The £38,500 worth of improvements at Fishponds are just the latest in a long list of neighbourhood projects funded by The Wandsworth Local Fund (WLF) which distributes cash levied by the council on new developments in the area to help pay for community and neighbourhood infrastructure improvements.
Over the past three years more than £7.5m in WLF money has been spent on local improvement initiatives including schemes to support safer communities, employment opportunities for young people, better pavements and improved playgrounds.
Recently the all-weather ball games area in Chivalry Road was refurbished as part of a £130,000 scheme. As well as a new playing surface, fencing and renewed sports equipment, the floodlighting was also upgraded enabling young people to use it after dusk.
And several other playgrounds across the borough have already been or are about to be revamped, including Upper Tooting Park, Godley Gardens, Swaby Gardens, Leaders Gardens and Battersea Park. Improvements are also being made at Fred Wells Gardens, Falcon Park and Furzedown Rec.
Other WLF-funded schemes include Christmas lights in the town centres, new LED street lights, a major road and pavement resurfacing programme, repainting Earlsfield Station railway bridge, refurbishing Putney Vale Cemetery and the Quest project providing intensive support to get young people into work.
Several public realm improvements to smarten up shopping streets include Putney High Street, Bedford Hill and Bellevue Road.
A guide has been published offering local people advice on how they can nominate community schemes for funding. It's available at all local libraries or can be read online at www.wandsworth.gov.uk/WLF.