Views sought on pilot scheme to tackle rat run traffic in Putney
Published: Tuesday, July 21, 2020
The council wants to hear the views of local people on the merits of a pilot scheme designed to deter rat run motorists from accessing a quiet residential road in Putney that's also home to a large school catering to pupils as young as four-years-old.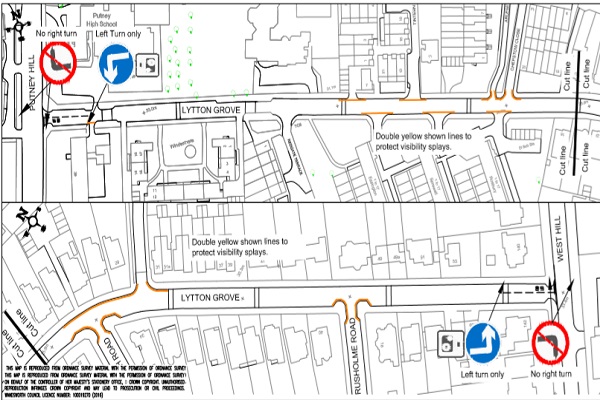 Amid concerns from residents over traffic volumes and excess speeds, a six month trial scheme has been introduced preventing vehicles turning right at both ends of Lytton Grove - onto Putney Hill and also onto the A3 at its junction with West Hill.
While the pilot scheme is in operation, an ongoing public consultation is underway so that people can submit their views on how they think it's working.
Further road safety measures have seen double yellow lines introduced on Lytton Grove and on some adjacent side roads to increase visibility especially for children attending Putney High School by deterring dangerous parking on junctions.
Wandsworth's transport spokesman Cllr John Locker said: "It's important that local people engage with the consultation and give us their views about this pilot scheme.
"We know that Lytton Grove has a history of being used as a cut through between Putney Hill and the A3 particularly during the morning and evening rush hours.
"We have responded to calls from residents by taking action to improve the situation, and while we are closely monitoring traffic flows to makes sure these measures are having the desired effect, we would also welcome the public's feedback before deciding on whether or not these changes should be made permanent."
The consultation period continues until December 11.