Council secures agreement from TfL to permit al-fresco trading for pubs, bars and restaurants
Published: Monday, June 29, 2020
The council has successfully persuaded highways chiefs at Transport for London to allow Old York Road to be closed to traffic so that its pubs, bars and restaurants can reopen and use the extra space to safely cater for their customers.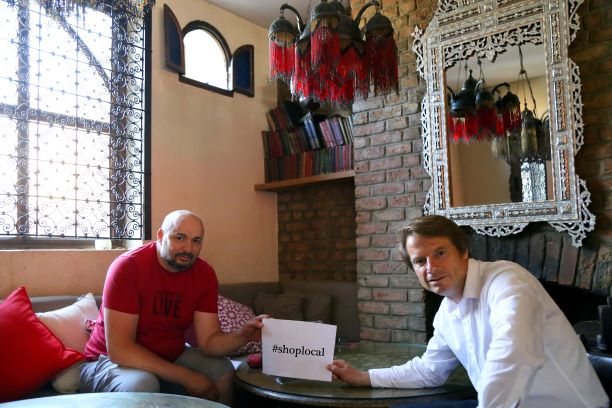 The agreement follows a concerted effort by the council to increase the space available for businesses in the hospitality sector struggling to survive the coronavirus pandemic.
Last week council leader Ravi Govindia wrote to Deputy Mayor for Transport Heidi Alexander asking her to support the council's efforts to provide a critical lifeline for hospitality businesses in Old York Road and Northcote Road.
Now that an agreement has been reached for Old York Road, the council will be stepping up its efforts to get the same outcome for Northcote Road. Permission to change road layouts at both locations is needed from TfL because they both serve bus routes.
Cllr Govindia said: "I'm delighted that our appeal to Heidi Alexander and her colleagues at TfL has seen an early success for Old York Road and we are optimistic that we can secure the same outcome for Northcote Road. I'm grateful to them for responding positively so quickly and am confident of continuing to work with them successfully to support our local businesses."
To ensure that all hospitality businesses across the borough can lawfully access outside space and set up tables and chairs for their customers, the council has agreed to simplify the process of applying for a street licence and waive the normal fees.
Pubs, bars and restaurants will be able to utilise outside space, subject to a short consultation period to ensure that the businesses behave responsibly and take steps to ensure their neighbours do not suffer undue noise disturbance and that passing pedestrians are not obstructed.
The council's cabinet member for economic development, skills and employment Cllr Jonathan Cook said: "Many businesses are facing a hugely uncertain and precarious future and so we need to do all we can to help them overcome this pandemic and get back on their feet. Thousands of jobs locally depend on it so it's important we take action to support them.
"This is why we are fast-tracking the arrangements for street trading. This is a pragmatic solution that will offer these businesses a much-needed lifeline and give residents who have been in lockdown for months and complied with the restrictions the chance to get out and enjoy a get together meal or drink with friends and family."
Pictured here is the letter from Cllr Govindia to Heidi Alexander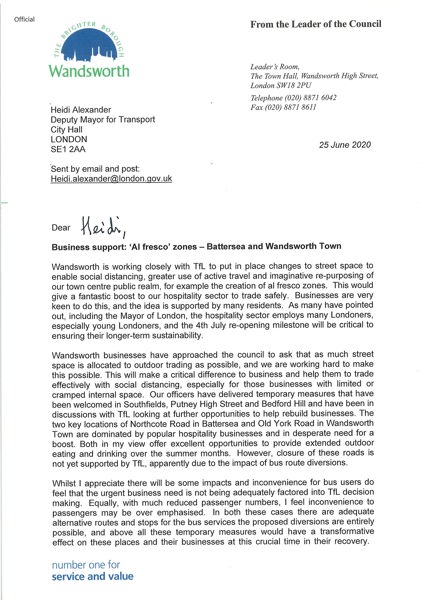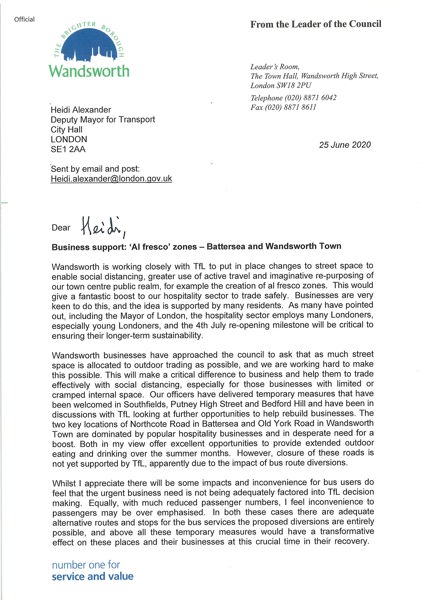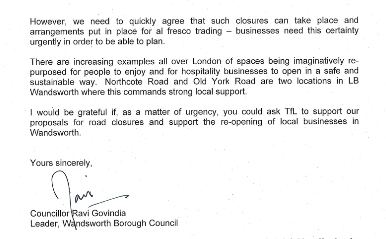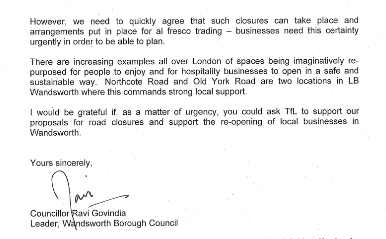 *A weekly newsletter is being sent to Wandsworth residents to update them on council services during the Coronavirus crisis.To keep receiving these weekly updates when the crisis is over, you can subscribe here