Awards recognise young people's achievements
Published: Thursday, March 5, 2020
The achievements of 72 young people from Wandsworth have been recognised at the Jack Petchey Foundation Achievement Awards in the Wandsworth Civic Suite last week.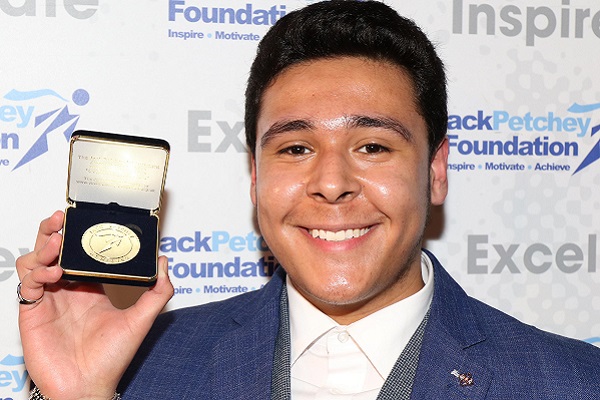 The winners aged between 11 and 25 were nominated by their peers and leaders and received medallions, framed certificate and a cheque for £250 each. In addition, Leader Awards were presented to four adults who have demonstrated an outstanding ability to motivate young people. They received a medallion and a framed certificate.
The ceremony was attended by Deputy Mayor of Wandsworth Cllr Sue McKinney and Cabinet member for Education and Children's Services Cllr Will Sweet.
Cllr Sweet said: "Well done to all the achievement award winners, it was an inspiring evening, and so impressive to hear about young people contributing to civic life within our borough. I hope that the achievements award winners use this as a platform to achieve greater things."
Winners included
Naqibullah Azizi, aged 16, who attends Ernest Bevin College.
Naqi is an important member of the Wandsworth Youth Council and he is committed to representing young people and championing the voice of his peers. He has also represented the Combined Cadet Force for the last two years as a Senior Cadet and since joining the sixth form, Naqi has given up his free periods between lessons to support Year 7 students in their studies. His teachers said: "He is a true role model for all students in the school and uses his time and energy to ensure that in school, as in his community, he strives to make a positive difference."
Naqibullah decided to spend his £250 Jack Petchey Achievement Award grant on various sixth form equipment to benefit his peers.
Ganann Sirkaran, aged 16, who attends Garratt Park School.
When Ganann started school in Year 10, he was a quiet, nervous and shy young man. Since then he has grown in confidence in the classroom, spoken at the Tate Modern to members of the public and performed in three plays. Ganann is always enthusiastic and polite with all staff and students, leading by example to those students in the lower years.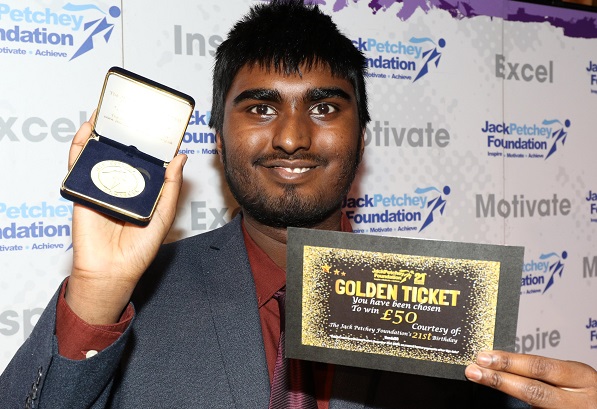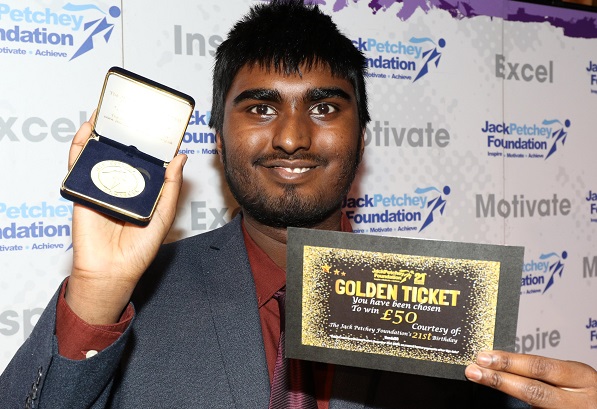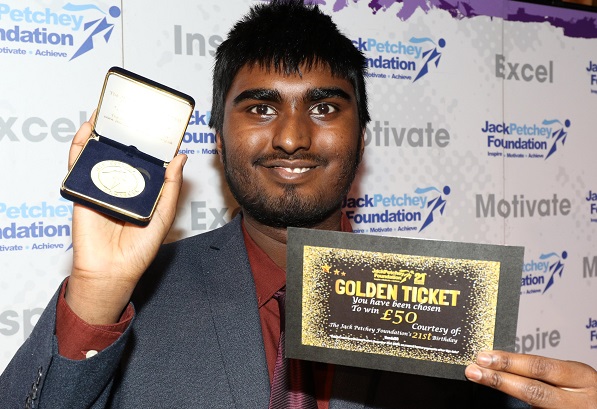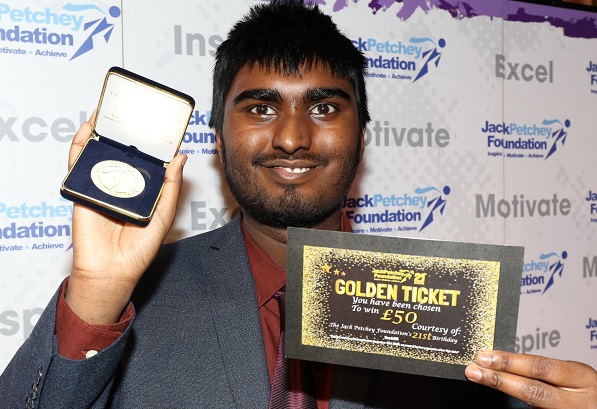 Ganann decided to spend his £250 Jack Petchey Achievement Award grant on a trip to Jimmy's restaurant and bowling in October last year for himself and his classmates. Ganann also won a Golden Ticket of £50. The Jack Petchey Foundation gave one of the award-winners a ticket to mark its 21st birthday celebration. 
Megan Davis, aged 17, who attends South Thames College.
Megan has been an excellent student volunteer with the school Enrichment team, always willing to assist with planning and organising activities for her peers. This includes numerous themed weekends and events including fundraising for Breast Cancer Awareness, Children In Need and Wear Green for Grenfell Day.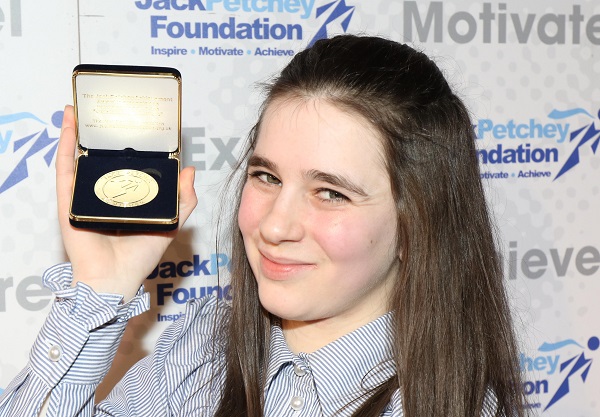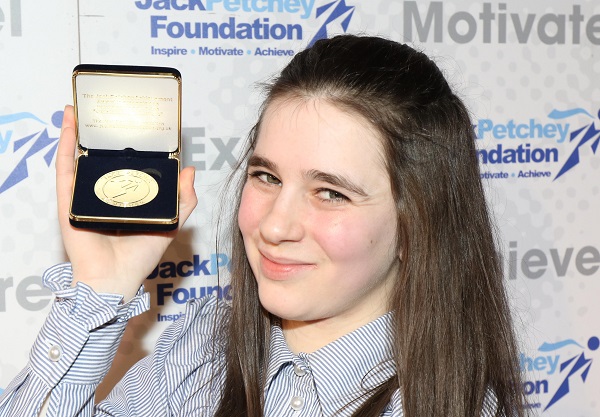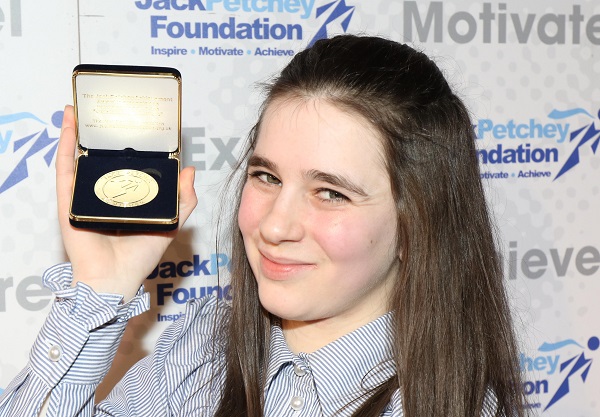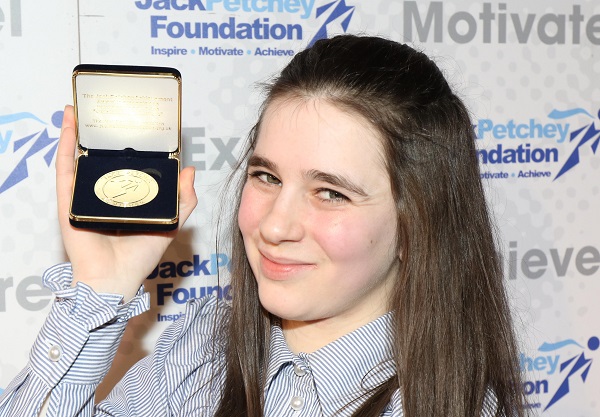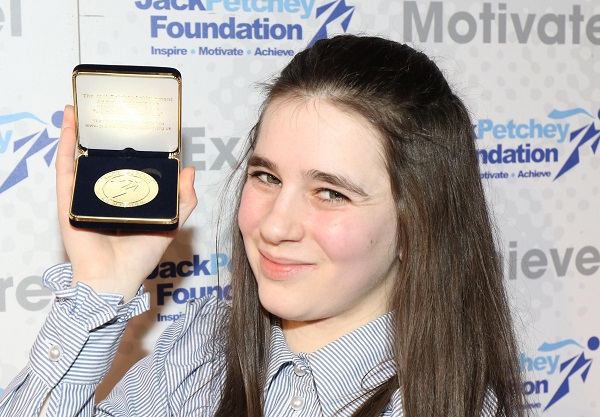 Megan decided to spend her £250 Jack Petchey Achievement Award grant on a trip to trampolining and a restaurant for herself and her classmates.
Alfie Sterne, aged 15, who attends Ark Putney Academy.
Alfie is "an example of how a student should approach his education", according to his teachers, always working with commitment and dedication throughout his schooling career. He is also a keen musician who regularly competes in APA's Got Talent as well as playing at the semi-finals of Wimbledon last year.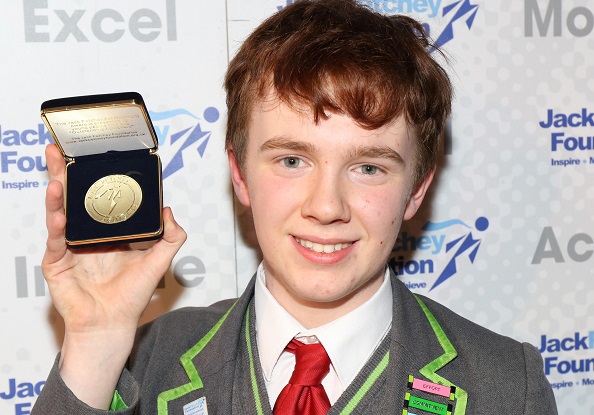 Alfie decided to spend his £250 Jack Petchey Achievement Award grant on an ice skating trip.
Betty Mitchell, aged 13, who attends Graveney School.
Betty is currently working with the Mayor of London's team on their Young Leader programme, and she is interested in joining the Green Party and applying to be on Wandsworth Youth Council. In addition, she plays netball, sings in the school choir and takes additional Spanish and Latin classes. Her teachers described her as "a truly engaged citizen who really wants to contribute to the local and wider community."
Betty decided to spend her £250 Jack Petchey Achievement Award grant on a class set of Factfulness books.
Sir Jack founded the Jack Petchey Foundation in 1999 to recognise the positive contributions young people make to society and to support them in achieving their potential. Since then it has provided support to a wide range of 2,000 initiatives supporting young people across London and Essex and has invested over £124m, including £881,569 invested in Wandsworth since 2007.
Sir Jack Petchey CBE aged 94, said: "I am passionate about our awards scheme which enables young people to be recognised, valued and rewarded for their achievements and positive contributions to society."