Battersea cycle contraflow scheme set for six month trial
Published: Friday, March 6, 2020
Work is about to begin implementing a trial scheme to provide cyclists in Battersea with a safe and convenient short cut that links a quiet residential street with an existing cycle route.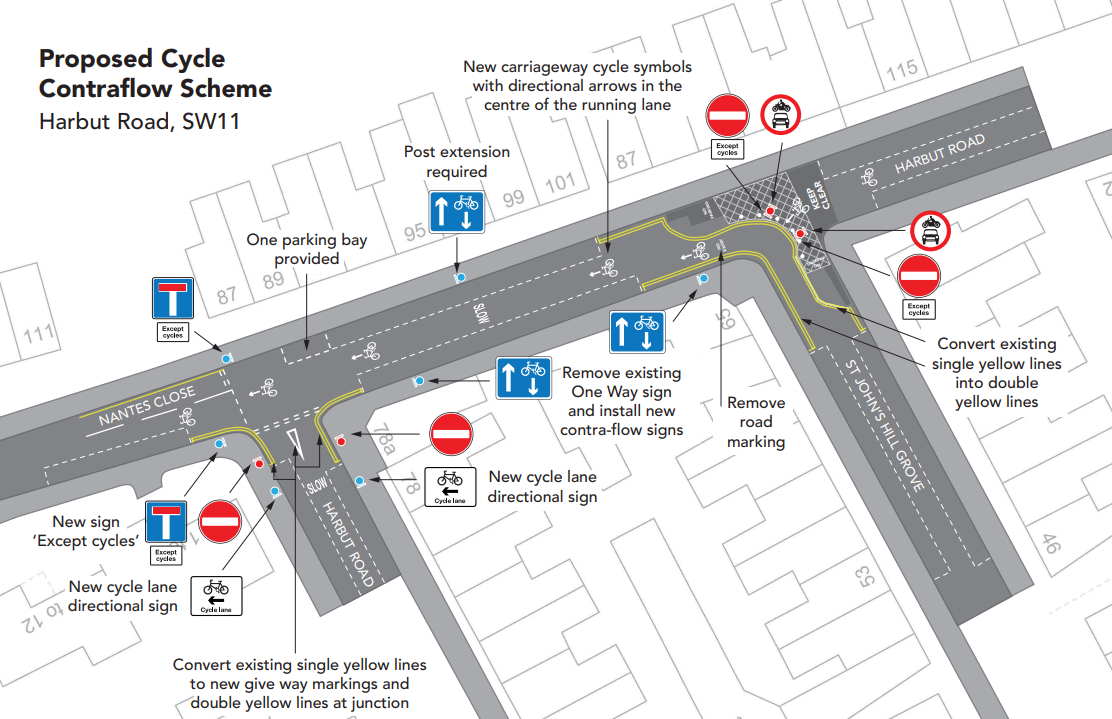 As part of a six month pilot scheme a new contraflow for cyclists is about to be unveiled in Harbut Road which will enable riders to safely and directly link up with the cycle route at the end of Nantes Close.

A series of measures will be introduced to enhance safety levels including better signage and road markings and the introduction of double yellow lines on corners to improve visibility.

Throughout the six month trial period the scheme will be monitored to ensure it remains safe to all road users and pedestrians and also meets the needs of local cyclists.

Cyclists, motorists, pedestrians and local residents will all be encouraged to take part in an ongoing public consultation to gauge the scheme's effectiveness and popularity and help determine if it should become a permanent feature. The consultation will get underway on March 10 when the contraflow comes into effect.

Transport spokesman Cllr Paul Ellis said: "This scheme is part of a wider package of measures designed to encourage people to take to two wheeled travel.

"Introducing convenient short-cuts for cyclists on quieter roads with low traffic volumes is just one of the ways we are encouraging higher levels of bike travel in the borough.

"And encouraging people to get out of their cars and switch to riding a bike is one of the ways we can help meet our climate emergency targets and reduce carbon emissions."

For more information about support for cycling in Wandsworth visit www.wandsworth.gov.uk/cycling.

To find out more about the council's plans to tackle climate change, visit www.wandsworth.gov.uk/climatechange.