Beware Covid-19 scammers
Published: Friday, March 27, 2020
People are being urged to stop and check before clicking on a link in an unsolicited email, or placing an online order with a new company.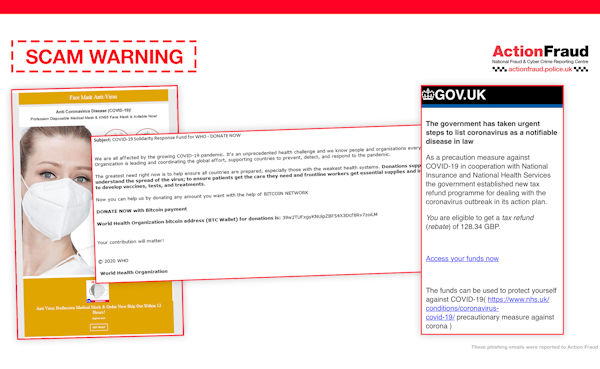 Some people are exploiting the uncertainty around the Coronavirus for financial gain. Below are three examples of fraud and phishing emails that are being circulated about Coronavirus:
Face masks that supposedly protect against COVID-19 with a direct link to 'buy' the

A request for a donation to the World Health Organisation (WHO)

A fake message from the Government which informs the recipient that they are entitled to a tax refund.

All of these are fake.
If you're in any doubt, do not click on any links in the emails or part with your money.
To best protect yourself from phishing emails, make sure you:

 

Check the actual email address of the sender. The name of the sender can be different to the email address.

Install the latest updates on your electronic devices as this fixes any bugs and helps protect your device.

Install antivirus software.
If you think you've fallen for a scam, report it to your bank immediately and report it to Action Fraud. You can do this via their website or by calling them on 0300 123 2040.
Family and friends may not know about these scams, so please pick up the phone, give them a call and let them know.